Asian Stocks Rise After Big Gains On Wall Street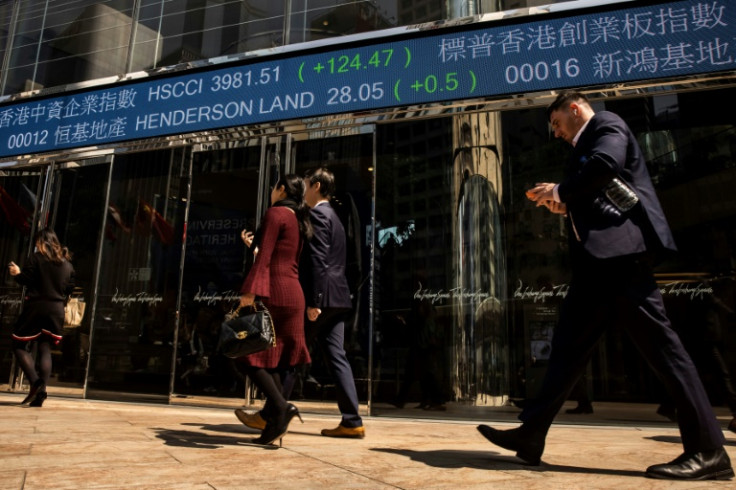 Asian stocks were up on Friday, tracking big gains on Wall Street fuelled by strong tech earnings and mixed, but manageable, macroeconomic data.
Fears of further turmoil in the banking sector, which had acted as a drag on global markets, also appeared to be dissipating as shares in troubled US lender First National Bank rose after two battering sessions.
Hong Kong was up nearly one percent in early trade Friday on the back of solid gains by Chinese tech giant Tencent and strong performances by commerce and industry stocks.
Tokyo also posted solid gains as investors kept their eyes on the Bank of Japan (BoJ), which will conclude its first meeting under new governor Kazuo Ueda during Tokyo trading hours.
"The BoJ is widely expected to hold firm," given that Ueda "defended the Bank's current ultra-easy policy stance in front of Parliament earlier this week," National Australia Bank senior analyst Taylor Nugent said in a note.
Traders will be also watching the BoJ's inflation forecasts, which will be released at the same time, he added.
Shanghai, Seoul, Sydney, Taipei, Wellington, Manila and Kuala Lumpur were all up, with Jakarta the sole loser. Singapore was more or less flat.
Back on Wall Street, a 14 percent surge in Meta shares -- along with strong performances by fellow tech titans Microsoft and Alphabet earlier in the week -- "helped foster a sense of relief that the mega-cap leaders are still performing relatively well from an operational standpoint", said Briefing.com.
Meanwhile, fresh US macroeconomic data was a mixed bag: though growth slowed more than expected in the first quarter, resilient employment and a bounceback in personal consumption offered a silver lining, pumping the brakes on recession fears.
"The consumer is still in too good of shape for the recession to start in the second quarter," Oanda's Edward Moya said in a note. "GDP growth is about to flatline, but it might squeeze out a tiny gain this quarter."
Investors were also heartened by the performance of US regional banks, which had been at the centre of fears for the health of the sector.
After two straight routs, First Republic Bank -- which reported this week that it lost more than $100 billion in deposits in the first quarter -- mustered an 8.8 percent gain, while other regional banks also closed higher.
Art Hogan, an analyst at B. Riley Financial, said "the worst of the regional bank turmoil is likely in the rear mirror", noting that most US lenders released earnings that were reassuring.
"It doesn't feel like the market is expecting some contagion."
With markets having digested the busiest stretch of earnings, the focus turns next to the US Federal Reserve's monetary policy meeting next week.
Yields on US government debt rose after the US data was released, suggesting that the market expects the Fed to consider strong consumer spending in the first quarter as well as a drop in weekly jobless claims on Thursday as evidence that the economy can take more interest rate hikes.
Hong Kong - Hang Seng Index: UP 0.7 percent at 19,969.29
Shanghai - Composite: UP 0.7 percent at 3,308.94
Tokyo - Nikkei 225: UP 0.7 percent at 28,656.19
Euro/dollar: DOWN at $1.1021 from $1.1033 on Thursday
Pound/dollar: DOWN at $1.2492 from $1.2498
Dollar/yen: UP at 134.17 yen from 134.02 yen
Euro/pound: DOWN at 88.23 pence from 88.24 pence
Brent North Sea crude: UP 0.1 percent at $78.45 per barrel
West Texas Intermediate: UP 0.2 percent at $74.87 per barrel
New York - Dow: UP 1.6 percent at 33,826.16 (close)
London - FTSE 100: DOWN 0.3 percent at 7,831.58 (close)
© Copyright AFP 2023. All rights reserved.