Erdogan's Rivals Ride Turkey Vote Count Rollercoaster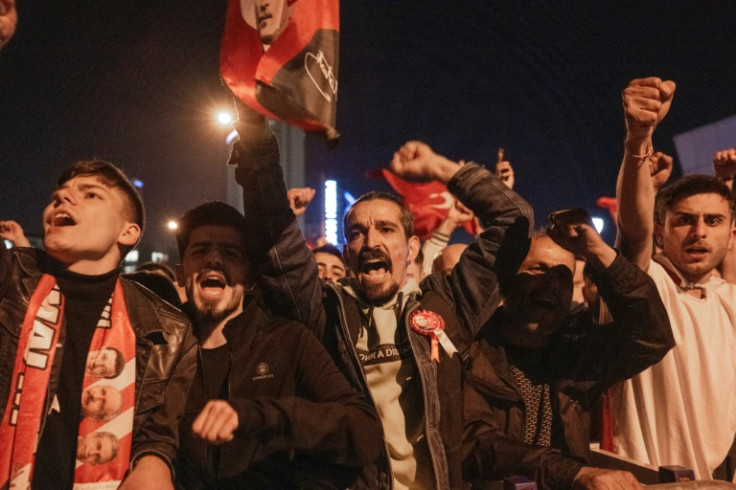 Turkey's main opposition party embarked on an emotional rollercoaster on Sunday as a see-sawing vote count threatened to dash hopes of a first-round election victory over conservative President Recep Tayyip Erdogan.
Polling had suggested that the secular opposition figurehead Kemal Kilicdaroglu had a chance of crossing the 50-percent threshold required to win Turkey's momentous presidential ballot without contesting a May 28 runoff.
But the hopes of his six-party alliance were dealt an early blow when the first partial results provided by the Anadolu state news agency said Erdogan was winning with more than 53 percent of the vote, with Kilicdaroglu languishing near 41 percent.
Istanbul's opposition mayor Ekrem Imamoglu urged Turks to disregard the official Anadolu figures and claimed separate numbers held by Kilicdaroglu's Republican People's Party (CHP) showed a different picture.
"We are seeing a positive picture, according to our data," CHP spokesman Faik Oztrak said.
Kilicdaroglu responded to the initial results announced by Anadolu with a pithy tweet: "We are ahead."
Separate figures provided by pro-opposition news outlet Anka showed Erdogan and Kilicdaroglu in a dead heat.
Omer Celik, a spokesman for Erdogan's Islamic-rooted Justice and Development Party (AKP), condemned the opposition for casting doubt on the official numbers as the results were still trickling in.
"We will not allow any attempt to raise tensions," he told reporters. "We saw such traps in the past. This means disrespect to the people, and to the ballot box."
Most of the early ballots appeared to have been counted in heavily pro-Erdogan districts of Turkey's north and east.
Opposition spirits revived as Kilicdaroglu began chipping away at Erdogan's lead, with votes still to be fully counted in major cities likely to back the opposition, such as Istanbul, Ankara and Izmir.
The mayor of Ankara's Cankaya district -- the Turkish capital's largest and an opposition bastion -- said the AKP was contesting "almost every ballot box", delaying the submission of results in an area where Kilicdaroglu was expected to perform strongly.
In the last presidential election in 2018, Cankaya was the only Ankara district to vote in favour of Erdogan's challenger Muharrem Ince.
At the CHP's Istanbul headquarters, Evrim Narin told AFP she was so excited she "couldn't feel my heart beat.
"I still believe we will win," said the 44-year-old public officer. "We have to get rid of this system.
"We wait in enthusiasm. We are a bit anxious, a bit tense. I haven't been able to sleep for the last week."
With more than 80 percent of the ballots counted at around 10:30 pm (1930 GMT), Erdogan's score had shrunk to less than 51 percent, with Kilicdaroglu's share climbing above 44 percent, according to Anadolu.
A third candidate, nationalist Sinan Ogan, was credited with five percent of the vote.
© Copyright AFP 2023. All rights reserved.