Saudi-Houthi Peace Talks In Yemen's Sanaa Conclude With Further Rounds Planned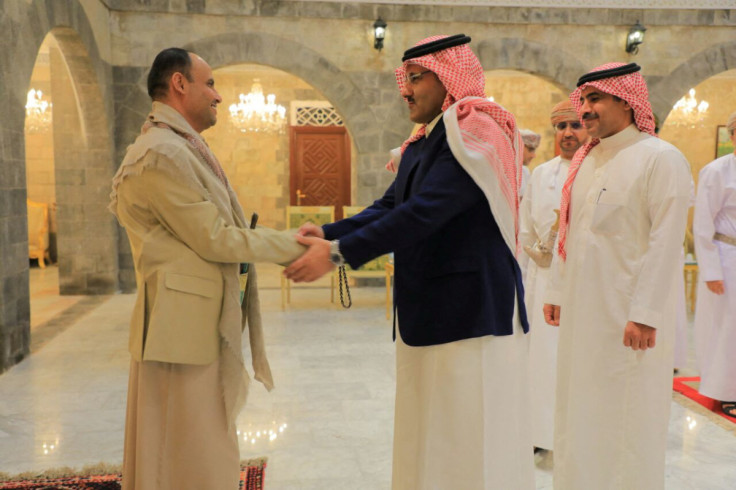 A Saudi delegation on Thursday concluded peace talks in the Yemeni capital Sanaa with the Houthi movement whose officials cited progress and said further discussions were needed to iron out remaining differences.
Saudi Arabia, which leads a coalition that has been battling the Iranian-aligned group since 2015, is seeking a permanent ceasefire agreement to end its military involvement in a war that has killed tens of thousands of people and left millions hungry.
Two Yemeni sources said the Saudi team departed Sanaa on Thursday following a visit that signalled movement to build on an expired U.N.-brokered truce and followed last month's deal between Saudi Arabia and Iran to restore ties.
Houthi politburo official Mohammed al-Bukhaiti described the negotiations as "going well". Another Houthi official, Abdulmalik Alejri, said on Twitter that "with determination and honest intentions remaining difficulties can be resolved".
Sources have told Reuters that the Saudi-Houthi talks facilitated by Oman are focused on a ceasefire, full reopening of Houthi-controlled ports and Sanaa airport, payment of public sector wages, rebuilding efforts, and the withdrawal of foreign forces from Yemen.
Two Yemeni sources, also speaking on condition of anonymity, said the parties could agree on an extended truce deal as they work out remaining differences.
The main sticking points include payment of civil servant salaries -- which the Houthis have insisted include armed forces -- using oil revenue and a timeline for foreign forces to exit the country, three sources familiar with the negotiations said.
The conflict, in which the coalition intervened against the Houthis after they ousted the Saudi-backed government from Sanaa in late 2014, is a multifaceted one with several Yemeni factions vying for influence.
The Houthis are de facto authorities in northern Yemen. The internationally recognised government is represented by a presidential council formed under Saudi auspices last year which took over power from Yemen's president-in-exile.
The conflict is widely seen as one of several proxy wars between Saudi Arabia and Iran, the region's Sunni Muslim and Shi'ite powers.
They have agreed to restore diplomatic ties severed in 2016 as Riyadh moves to manage regional tensions and to focus on economic priorities.
(Writing by Ghaida Ghantous; editing by Jason Neely)
© Copyright Thomson Reuters 2023. All rights reserved.