Sudan Conflict: UAE Evacuates Emiratis, People From 19 Other Countries During Ceasefire
KEY POINTS
Evacuees from 19 other countries were rescued from Sudan and are currently staying in the UAE
The UAE will host the foreign evacuees before flying them back to their home countries
Earlier this week, the UAE thanked Saudi Arabia for evacuating Emiratis from Sudan
The UAE has evacuated Emiratis and people of 19 other nationalities from Sudan, while prioritizing the vulnerable, including the sick, children, the elderly, and women, the Ministry of Foreign Affairs and International Cooperation announced on Tuesday.
The ministry picked up the evacuees from the city of Port Sudan on Tuesday and facilitated their journey to the UAE. The country will host the foreign evacuees before flying them back to their home countries, the National News reported.
In a statement after the evacuation, the ministry said the operation was in line with the UAE's humanitarian mission of helping other countries in times of need.
"In line with its commitments to humanitarian assistance and strengthening global cooperation and solidarity, the UAE has evacuated its citizens and nationals of a number of countries from Sudan, aligned with its humanitarian values based on providing protection for civilians, and extending assistance to countries in times of need," said the ministry.
The ministry also reiterated the UAE's commitment to partnering with the international community in protecting the people of Sudan amid the ongoing conflict between the Sudanese army and a paramilitary group in the country, the Gulf News reported.
It also highlighted the importance of making strides to secure a ceasefire and respecting the country's political process to achieve a peaceful dialogue between the conflicting parties and ultimately stabilize the region.
The crisis in Sudan broke out in the country's capital Khartoum on April 15, when the Sudanese army and the paramilitary group battled over control of the nation. The armed violence has since spread to other parts of the nation, although the two parties agreed on a 72-hour ceasefire on Monday night to give way to the arrival of aid and safe departure of people.
Meanwhile, the UAE's evacuation operation came shortly after the government announced it had raised Dh10 billion via Emirates Red Crescent to support its humanitarian endeavors, including providing assistance to orphans, helping the earthquake victims in Turkey and Syria, and helping those affected in the ongoing war in Sudan.
Earlier this week, the UAE also expressed its gratitude to Saudi Arabia for facilitating the departure of Emiratis and other nationals from the war-stricken country.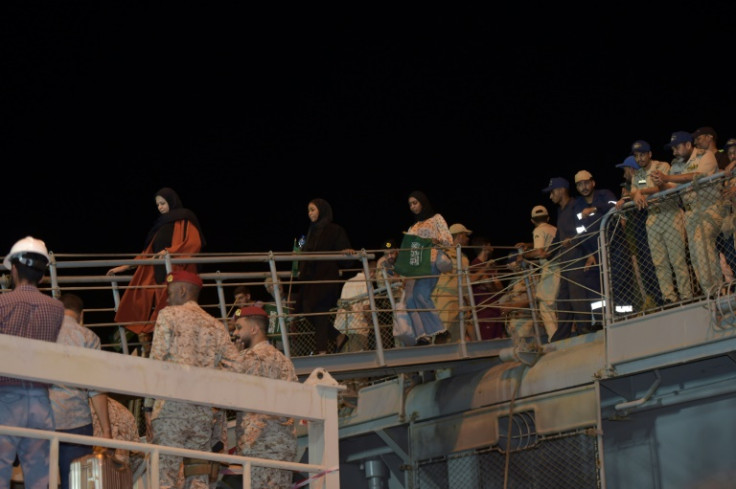 © Copyright 2023 IBTimes AE. All rights reserved.