Ukrainian PM Says Critical To Start Reconstruction In 2023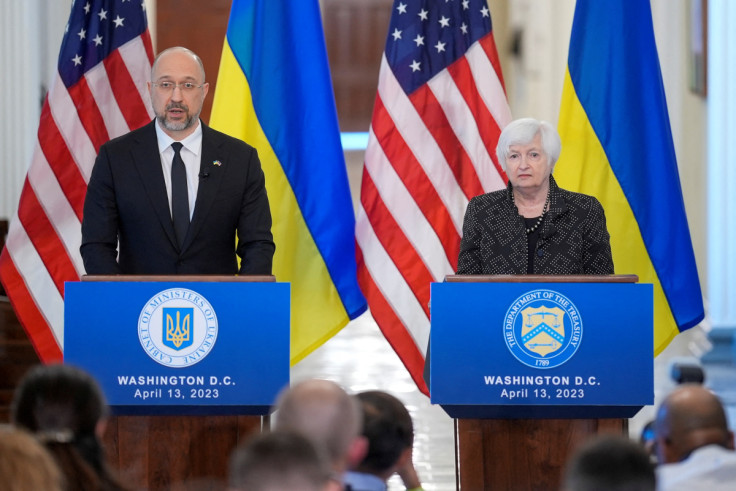 Ukrainian Prime Minister Denys Shmyhal on Thursday welcomed the "continuous, ironclad and unprecedented support" of the United States as his country fights Russia's invasion, and underscored Ukraine's commitment to battling corruption.
Shmyhal, speaking alongside U.S. Treasury Secretary Janet Yellen, said it was critically important for Ukraine to begin reconstruction this year, and said Kyiv had identified a priority funding gap of $14 billion needed this year.
Yellen, who paid a surprise visit to Kyiv in February, told Shmyhal she had seen "firsthand the bravery and resilience of the Ukrainian military and people," recounting a visit to a school damaged by Russian attacks where community members were making trench candles to send to the front lines.
She said the United States had stood with Ukraine since the first day of the war, and would continue to back it "for as long as it takes."
The United States had disbursed significant economic support since the start of the war and would provide more in coming months, on top of security and humanitarian aid, she said.
"As President Zelensky said, this support is not charity - it's an investment in democracy and global security," she said, noting that it included safeguards to ensure that the funds were used for the intended purpose.
Yellen lauded Ukraine's commitment to meeting reform benchmarks in a new $15.6 billion lending program approved by the International Monetary Fund, which she said marked a significant step toward achieving a sound economic path.
Shmyhal said Ukraine had implemented exceptional control measures to account for every dollar in assistance received, and said the country had undertaken more anti-corruption reforms in the past year than during many previous years combined.
He also said Ukraine appreciated tough U.S. sanctions imposed against Russia that covered more than 120 companies and entities, including those who facilitated sanctions evasion, and those associated with Russian energy company Rosatom.
The World Bank, United Nations, European Commission and Ukraine recently estimated it would cost $411 billion to rebuild Ukraine, a big jump from the earlier estimate of $349 billion.
Yellen on Tuesday said support from the United States and the European Union would take Ukraine through the end of the year, but if the war continued, Washington would have to work with partners to provide additional support as needed.
© Copyright Thomson Reuters 2023. All rights reserved.