With Zelenskiy In Britain, UK Pledges Long-range Attack Drones For Ukraine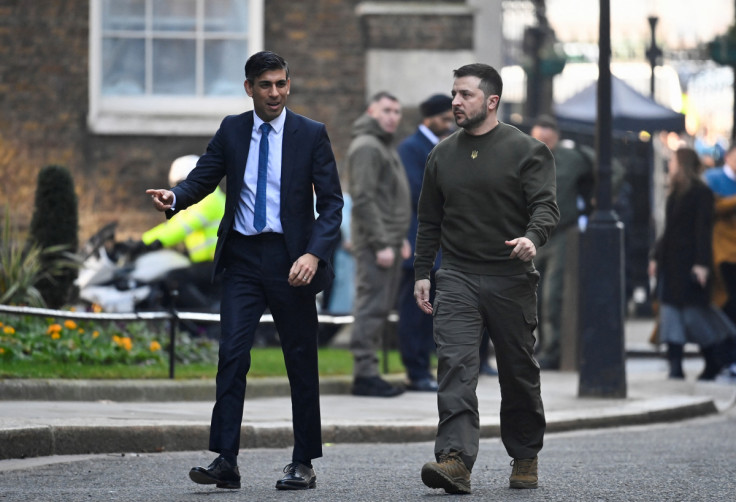 Ukrainian President Volodymyr Zelenskiy will meet Prime Minister Rishi Sunak in Britain on Monday as part of a tour of several key European allies ahead of an expected major Ukrainian counter-offensive against Russian forces.
Last week Britain became the first country to start supplying Ukraine with long-range cruise missiles, which will allow its forces to hit Russian troops and supply dumps deep behind the front lines.
Sunak's office said the British leader would on Monday confirm the provision of hundreds of air defence missiles and further unmanned aerial systems including hundreds of new long-range attack drones with a range of over 200 kilometres.
Zelenskiy visited Berlin, Rome and Paris over the weekend to meet with European leaders as he seeks to drum up further military and financial support for Ukraine.
"Today - London. The UK is a leader when it comes to expanding our capabilities on the ground and in the air. This cooperation will continue today," Zelenskiy said on Twitter.
"I will meet my friend Rishi. We will conduct substantive negotiations face-to-face and in delegations."
The British government said Zelenskiy had arrived in Britain and would meet Sunak at his Chequers country residence.
"This is a crucial moment in Ukraine's resistance to a terrible war," Sunak said in a statement.
"They need the sustained support of the international community to defend against the barrage of unrelenting and indiscriminate attacks that have been their daily reality for over a year."
After the United States, Britain has been one of the largest suppliers of military aid to Ukraine, contributing 2.3 billion pounds ($2.9 billion) worth of support last year and pledging a similar amount for 2023.
In January, Britain said it would send 14 of its battle tanks to Ukraine, a pledge that was followed by other nations including the United States and Germany.
Zelenskiy was also scheduled to deliver a speech to the Copenhagen Democracy Summit on Monday via video link.
($1 = 0.7923 pounds)
© Copyright Thomson Reuters 2023. All rights reserved.