Analysis-Qatar Takes Diplomatic Back Seat As Saudi Flexes Political Muscle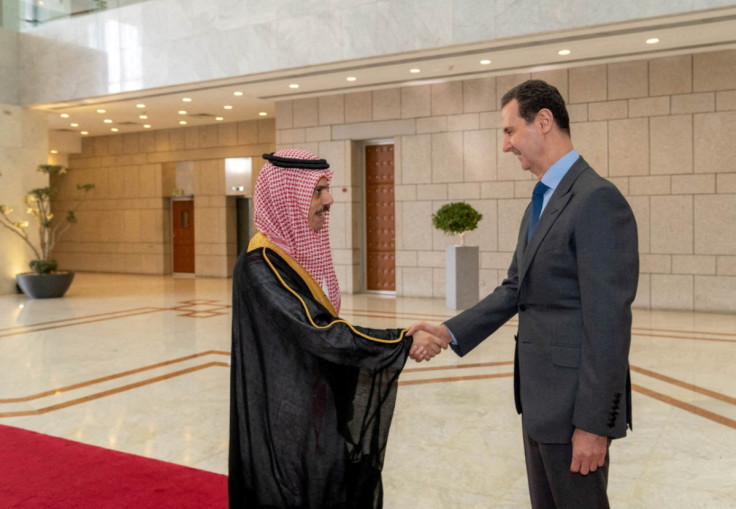 The Arab League's welcoming back of Syria's President Bashar al-Assad into its ranks highlights how far behind Qatar has fallen in its bid to be a diplomatic voice that carries weight in the Middle East.
Earlier this month Qatar reluctantly withdrew its opposition to Saudi Arabia's initiative to readmit Syria. It made clear it opposed normalizing its own ties with Damascus but said it would not stand in the way of an Arab consensus.
The dismay in the diplomatic mission in Doha of a Syrian opposition group, which Qatar recognises as Syria's official embassy to the state, was a stark reminder of the shifting tides.
"Qatar did not accept this decision, but they did not stand in the way," Belal Tourkya, the mission's charge d'affaires, told Reuters.
Analysts say the change in Doha's position on Syria is a sign it may be dialing back on its once-ambitious regional foreign policy to avoid raising the ire of its most powerful neighbours.
Assad is expected to attend the Arab League summit in Jeddah on Friday for the first time in 12 years, a powerful signal his regional isolation over Syria's civil war is ending.
Saudi Arabia used its leverage over Arab League members to push them to return Syria to the body, said Giorgio Cafiero, CEO of Gulf State Analytics.
"Qatar didn't want to play any obstructive role that would have risked angering the leadership in Riyadh and other Arab capitals," he said.
Qatar has been steadily mending ties with Saudi Arabia, Egypt, the United Arab Emirates and Bahrain.
In early 2021 they agreed to end a 3-1/2 year boycott of Qatar imposed over accusations that Doha supported terrorism - a broad allusion to Islamist movements. Qatar denies the charges.
Qatar's backing of pro-democracy movements and rebels in Syria and in other places like Egypt and Libya after the 2011 Arab Spring had infuriated its neighbours.
Boosted by riches from gas, it has played an outsized role in global affairs.
It hosts U.S. troops, finances the influential Al Jazeera news network, and mediates in conflicts. Last year's soccer World Cup was seen as a showcase of soft diplomacy.
But in recent weeks, Qatar has had little say in peace talks between Yemen's Houthi movement and Saudi Arabia, or in seeking an end to fighting between rival military factions in Sudan.
The Gulf state is priortizing a good working relationship with its neighbours, especially Saudi Arabia, said a Western diplomat in Doha who spoke on condition of anonymity.
"This makes them keen to avoid getting involved in regional confrontations and that is why they are less engaged in Yemen and Sudan than in former times," the diplomat said.
Qatar says its foreign policy is "staunchly independent" and strives "to build consensus in the (Gulf) and wider Arab region through constructive dialogue that does not compromise our foreign policy," a Qatari official told Reuters.
"For this reason, Qatar decided not to block Syria's readmission to the Arab League but has not normalised relations with the Syrian regime," the official said.
STOKING REGIME CHANGE
When Qatar authorized the opposition embassy in 2013, Doha was the lead architect of a growing Arab consensus that isolated Assad and boosted support for his foes.
Doha and Washington worked together to try to organize an international anti-Assad effort and to develop an alternative to him, said Joshua Landis, a Syria expert and director of the Center for Middle East Studies at the University of Oklahoma.
Qatar cast the Syrian National Coalition as a government-in-exile, handing them Syria's Arab League seat and opening the Doha mission in a villa nearby other embassies.
Al Jazeera beat "the drums of regime change" by broadcasting a stream of videos of Assad's security forces attacking protestors, Landis said.
Several Gulf states including Qatar, Saudi Arabia and the United Arab Emirates began backing rebel groups fighting to oust Assad from power.
"Qatar assumed that the civil war was going to result in an overthrow of the Assad dynasty, which it did not," said Mehran Kamrava, Professor of Government at Georgetown University Qatar.
Assad regained control over much of Syria with the help of Iran and Russia but hundreds of thousands of people died in the war, millions have fled the country and Syria remains splintered with its economy in ruins.
As Syria's anti-Assad movement lost ground, "Saudi Arabia and the UAE shifted their policy most dramatically but Qatar has not," Kamrava said.
Qatar initially opposed efforts this spring by Saudi Arabia to galvanise support to readmit Syria to the Arab League following its 2011 suspension.
"They still see Assad as a war criminal and his place should be in the courts," Tourkya said.
But three weeks later, Qatar went along with the League's decision to readmit Syria. The foreign ministry said it did not want to be an obstacle to Arab consensus.
Qatar made clear it would not be restoring relations with Assad's government, a move it says is linked to progress towards a political solution.
But analysts question how long Doha can maintain that position.
Qatar "understands full well that they've lost, but it wants to be the last country to normalize with Syria," Landis said.
© Copyright Thomson Reuters 2023. All rights reserved.