Appetite For Change Grows In Kurdish Heartland As Turkish Elections Near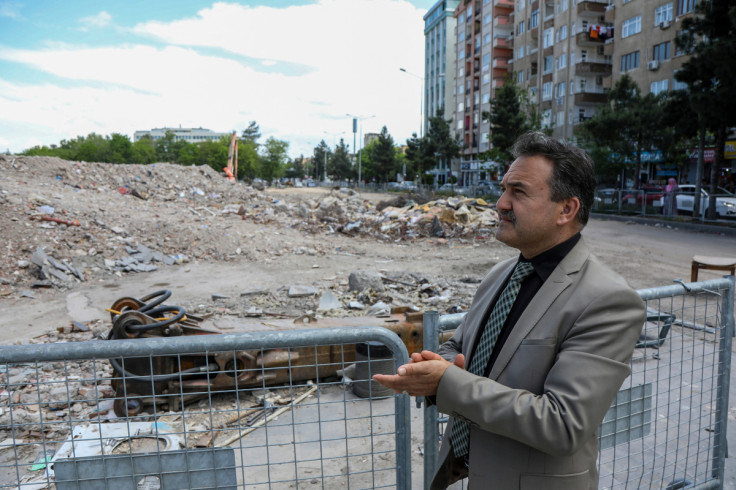 Formerly a Tayyip Erdogan supporter, broadcaster Mehmet Dalgic switched allegiance to his main challenger after the ruling AK Party failed to offer sympathy for the destruction of his TV station in southeast Turkey in February's earthquake.
The lack of support was the final straw in Dalgic's gradual disillusionment with the AKP, which has long enjoyed solid support in the region thanks to steps to boost the rights of Kurds, who form the majority there, and the local economy early in its two decades of government.
Ahead of Sunday's elections, a cost of living crisis is now hitting Erdogan's support in the southeast as elsewhere, threatening his prospects in a tough battle to maintain power.
Analysts say the government's growing nationalist line has also eroded his popularity among Kurds, who make up 20% of the population and are seen playing a 'kingmaker' role in the votes.
"Now I say to Turkey that a change is necessary," Dalgic said as excavators continued to remove debris from the collapsed shopping mall in the region's largest city of Diyarbakir where his TV station was located. "The young have no hope, no future."
A survey published this week by pollster Rawest showed 76.3% support for opposition presidential candidate Kemal Kilicdaroglu in Diyarbakir province, with backing for Erdogan at just 20.5%.
Kilicdaroglu's main opposition CHP had scant support in the southeast in the past but under his leadership it has reached out to Kurds and the pro-Kurdish HDP, which is dominant across the region and won 67% support in Diyarbakir in 2018 elections.
"KURDISH PROBLEM"
While opinion polls indicate support for Erdogan in the region is dwindling, he retains a core of support, including people like trader Adil Aydin, who associates the CHP with state repression targeting Kurds long before Erdogan's AKP came to power.
"From the moment (Erdogan) said 'the Kurdish problem is my problem', it brought peace in this region," Aydin said in his cheese shop in the city's historical heart, alluding to Ankara's bid to end a decades-old conflict that has scarred the region.
The Kurdistan Workers Party (PKK), deemed a terrorist group by Turkey and its Western allies, took up arms against the state in 1984. The fighting has killed more than 40,000 people.
In his election campaign, Erdogan has repeatedly suggested links between the PKK and the opposition alliance, without providing evidence, apparently seeking to tap into deep nationalist hostility towards the militant group.
But a decade ago Erdogan began a peace process with the PKK. Those talks collapsed in 2015, unleashing a period of ferocious urban warfare in the southeast, including in the streets near Aydin's shop. But Aydin still hopes for an end to the conflict, which is now focused in northern Iraq.
"The Kurds want to return to the peace process. They are longing for peace," Aydin said, affirming his confidence in the president. "As people say, if anyone can do it, Erdogan can."
It was a confidence that Dalgic once had, recalling how deeply he was moved when he first saw Erdogan speak two decades ago and viewed the AKP as bringing "salvation".
"I cried. There was a knot in my throat. It was the first time I saw such an imposing leader with such enthusiasm."
Twenty years on, he says he will vote for Kilicdaroglu, who some surveys put ahead in the race for the presidency.
CHANGE IN ERDOGAN
The HDP, parliament's third largest party, has itself declared its support for Kilicdaroglu. It is entering the elections under the emblem of the small Green Left Party due to a court bid to ban it over links to the PKK, which it denies.
The HDP's jailed former leader, Selahattin Demirtas, has run a high-profile election campaign from his cell and his wife Basak this week released a video in which she guides HDP supporters towards casting their votes for the CHP leader.
In the HDP's Diyarbakir offices, parliamentary candidate Mehmet Emin Aktar said the president had changed over the years.
"Erdogan, his language and manners are very different today from how they were 20 years ago," Aktar said, attributing the change to the collapse of the peace process in 2015.
That was followed by a years-long crackdown on the HDP in which thousands of party officials and members have been arrested and dozens of lawmakers and elected mayors ousted from their seats, the latter replaced by unelected state officials.
"This government pressure...violates and suppresses all rights such as freedom of expression and the right to organise and demonstrate," said Aktar, former head of the Diyarbakir bar.
Economic hardship and unemployment weighs heavy on first time voters in Diyarbakir and some say they may vote for the CHP, an unlikely prospect in the past.
"I think with a high probability I will vote for the CHP because they are making promises about education, the economy and health. It is good for change too," said tobacco shop worker Furkan Guler, 21.
One of his customers, 19-year-old student Soner Ekti said he was also considering voting for the opposition but was also looking further afield if his prospects in Turkey don't improve.
"If it goes on like this, I'm thinking of going abroad."
(Writing by Daren Butler; Editing by Angus MacSwan)
© Copyright Thomson Reuters 2023. All rights reserved.