Asia Stocks Rise On Hopes Regional Central Banks Hold Steady On Rates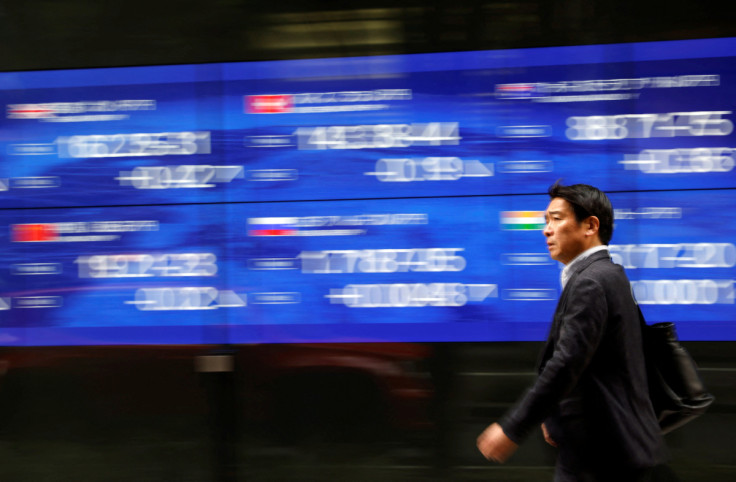 Asia stocks posted gains on Tuesday, boosted by investor optimism that the region's central banks will continue to pause or end interest rate hike cycles, whatever action the U.S. Federal Reserve takes. MSCI's broadest index of Asia-Pacific shares outside Japan rose 0.6% as trading resumed after a long holiday weekend in many major Asian markets.
On Tuesday morning, South Korea's central bank held interest rates steady for a second consecutive meeting, as expected. Gary Ng, senior economist at Natixis Corporate and Investment Bank, said Asian economies are more cautious about hiking rates as their determination to preserve growth outweighs concern over taming inflation, which is a bigger concern in the U.S. and Europe.
Strong U.S. employment data published last Friday sparked expectations that the Fed may hike rates in May, but the 25 basis point rise now priced in by the market is smaller than what had previously been estimated, according to Ng.
"I think investors are more optimistic in terms of seeing the end of the rate cycle," he added, "but whether we are already at the top - that is really the key driver of this oscillation that we see right now."
Japan's Nikkei 225 index advanced 1.0% in early trading as the market welcomed the new Bank of Japan governor's first public remarks on maintaining the central bank's ultra-easy monetary policy.
Australia's S&P/ASX 200 index gained 1.4% with miner Newcrest's shares jumping as much as 7.1% on an improved takeover offer from Newmont, making it the top gainer on the benchmark.
Hong Kong stocks were tech sector gains, with the benchmark Hang Seng climbing 0.9%.
Shares of Chinese artificial intelligence company SenseTime surged as much as 11% a day after it unveiled a series of new AI-powered products as it joins a global race to dominate the sector. SenseTime investor Alibaba itself rose as much as 3.8%.
Elsewhere, the yield on benchmark U.S. Treasury 10-year notes fell by 1.5 basis points to 3.4%.
The dollar index edged down by 0.098% to 102.36, while the Japanese yen weakened 0.15% versus the dollar to 133.4.
In oil markets, U.S. crude gained 0.6% to $80.19 per barrel while Brent was at $84.65, also up 0.6%.
Gold price rose 0.32% to $1996.25 on Tuesday as the dollar weakened.
© Copyright Thomson Reuters 2023. All rights reserved.