Asian Markets Rally With Wall St On US Debt Optimism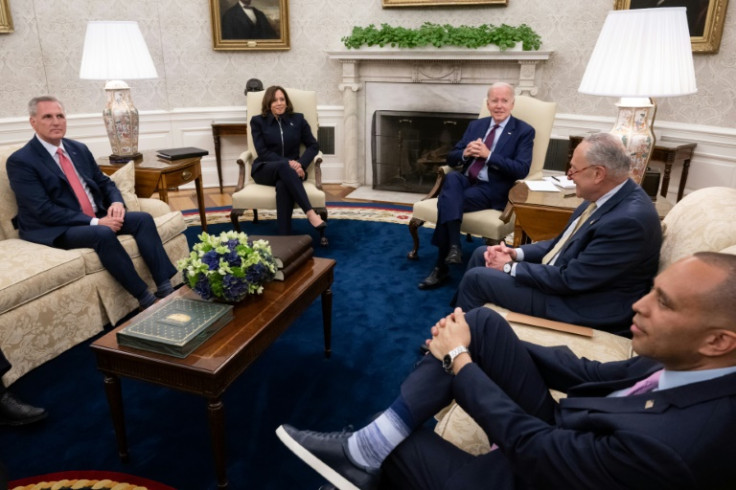 Asian investors on Thursday tracked a strong Wall Street rally, fanned by optimism over talks to avert a catastrophic US debt default.
Markets have been skittish in recent sessions with Republicans and Democrats unable to find common ground as the deadline for a deal to raise the country's borrowing limit approached.
But talks this week between President Joe Biden, House Speaker Kevin McCarthy and congressional leaders appear to have been more fruitful.
"I'm confident that we'll get the agreement that we need on the budget and that America will not default," Biden said at the White House just before he set off for the G7 summit in Japan.
McCarthy added that Biden and Democratic Senate Majority Leader Chuck Schumer had "finally backed off the insane, irrational, unsensible idea that you just raise the debt ceiling."
"I'm optimistic about our ability to work together," he said. "The only question of whether we have a Biden default is the president himself."
Treasury Secretary Janet Yellen has warned that the US government would likely run out of cash by June 1 while the non-partisan Congressional Budget Office has forecast June 15.
Most economists have warned that world markets would be sent into turmoil and the already fragile global economy would take a severe hit if lawmakers do not lift the debt ceiling and the United States defaults.
And in a sign of the worry the issue is causing on Wall Street, a number of top bank executives visited Washington to hold talks with congressional leaders.
Afterwards, JPMorgan Chase CEO Jamie Dimon told reporters: "The US should not and probably will not default."
The news of progress was greeted warmly on Wall Street, where all three main indexes ended more than one percent higher, and Asia followed in early business Thursday.
Tokyo and Hong Kong each piled on more than one percent, while there were also healthy gains in Shanghai, Sydney, Seoul, Singapore, Taipei, Manila, Taipei and Wellington.
Still, some observers said that while the outlook was improving, there could still be bumps in the road.
"Markets have chosen to be optimistic, embracing the positive soundbites from both parties," said National Australia Bank's Rodrigo Catril.
"Also playing into the positive vibes, both parties agreed to a new smaller group of staff-level talks increasing hopes a bipartisan deal may be reached.
"History of course tells us that a deal is more likely than not to be reached on the 11th hour, suggesting there is still room for a few bad headlines before a deal is finally reached."
Investors also took heart from a rally in US regional lenders after Western Alliance Bancorporation said it had added $2 billion in deposits so far in the second quarter.
The news eased worries over the sector after recent turmoil that saw three banks go under as they struggled to cope with the Federal Reserve's year-long campaign of sharply hiking interest rates.
Tokyo - Nikkei 225: UP 1.5 percent at 30,533.64 (break)
Hong Kong - Hang Seng Index: UP 1.3 percent at 19,812.29
Shanghai - Composite: UP 0.7 percent at 3,308.14
Euro/dollar: UP at $1.0845 from $1.0841 on Wednesday
Pound/dollar: UP at $1.2489 from $1.2488
Dollar/yen: DOWN at 137.39 yen from 137.63 yen
Euro/pound: UP at 86.85 pence from 86.79 pence
West Texas Intermediate: DOWN 0.3 percent at $72.62 per barrel
Brent North Sea crude: DOWN 0.3 percent at $76.71 per barrel
New York - Dow: UP 1.2 percent at 33,420.77 (close)
London - FTSE 100: DOWN 0.4 percent at 7,723.23 (close)
© Copyright AFP 2023. All rights reserved.