Asian Markets Wobble As US Struggles To Reach Debt Deal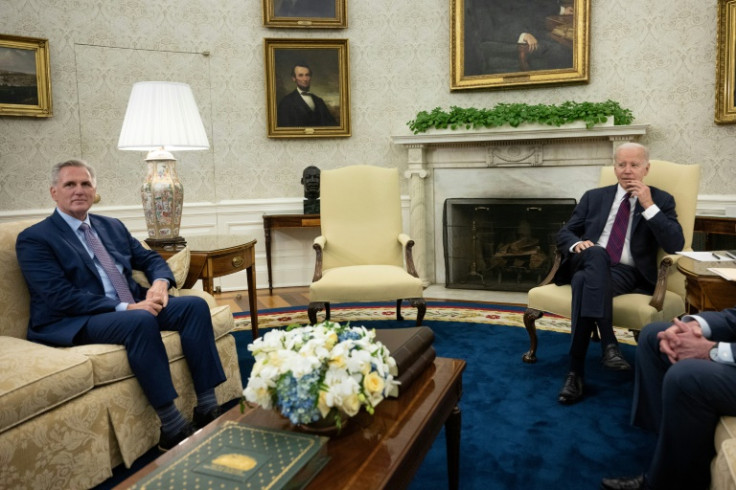 Equities were mixed in Asia on Tuesday as traders grow increasingly concerned that US lawmakers remain far apart in their bid to raise the country's borrowing limit to avert a default.
While there is a general feeling an agreement will be reached, Republican House Speaker Kevin McCarthy warned Monday that staff-level meetings were "not productive at all" and they were "nowhere near reaching a conclusion".
For their part, Republicans are demanding spending cuts as a condition for the bill while Democrats want other fiscal-tightening steps that the GOP rejects.
US President Joe Biden, who has expressed confidence the two sides can bridge the gap, is scheduled to meet with McCarthy and other congressional leaders at the White House later Tuesday.
McCarthy's comments came after Treasury Secretary Janet Yellen again said the government would likely run out of cash on June 1, meaning it would not be able to meet its debt repayment obligations, sparking a potentially devastating default.
Meanwhile, two top Federal Reserve officials suggested they were in favour of pausing the central bank's interest rate-hiking drive next month.
Chicago Fed boss Austan Goolsbee said he wanted to wait for the effects of more than a year of increases aimed at bringing inflation down from multi-decade highs.
"There is still a lot of the impact of the 500 basis points we did in the last year that's still to come," he told CNBC. "And you add on that there are tight credit conditions, and I think that we should be extra mindful.
"We need to take that into account, and the only way to do that is sit and watch it."
Atlanta Fed president Raphael Bostic added that he favoured staying put at the June meeting, though he threw cold water on any hope for a cut before the end of the year.
While Bostic made clear he favours putting the policy on hold for now, he also suggested that the next move may be more likely up than down, given the persistence of price pressures.
But Minneapolis Fed President Neel Kashkari said monetary policymakers still had plenty of work to do to rein in prices, citing the still strong labour market and the fact inflation, at five percent, remained well above the bank's two percent target.
In early trade, Asian markets struggled to extend Monday's strong performance.
Hong Kong rose thanks to a rally in tech firms that followed news that US investor Michael Burry -- who made his name predicting the 2008 housing crisis -- had boosted his investments in e-commerce giants Alibaba and JD.com.
There were also gains in Tokyo, Seoul, Taipei and Manila, though Shanghai, Sydney, Singapore and Jakarta fell.
Tokyo - Nikkei 225: UP 0.7 percent at 29,828.71 (break)
Hong Kong - Hang Seng Index: UP 0.5 percent at 20,070.54
Shanghai - Composite: DOWN 0.1 percent at 3,307.30
Euro/dollar: DOWN at $1.0874 from $1.0878 on Monday
Pound/dollar: DOWN at $1.2522 from $1.2528
Dollar/yen: DOWN at 135.96 yen from 136.10 yen
Euro/pound: UP at 86.85 pence from 86.80 pence
West Texas Intermediate: UP 0.6 percent at $71.52 per barrel
Brent North Sea crude: UP 0.6 percent at $75.67 per barrel
New York - Dow: UP 0.1 percent at 33,348.60 (close)
London - FTSE 100: UP 0.3 percent at 7,777.70 (close)
- Bloomberg News contributed to this story -
© Copyright AFP 2023. All rights reserved.