Calls For Probe After Moroccan Football Fan Dies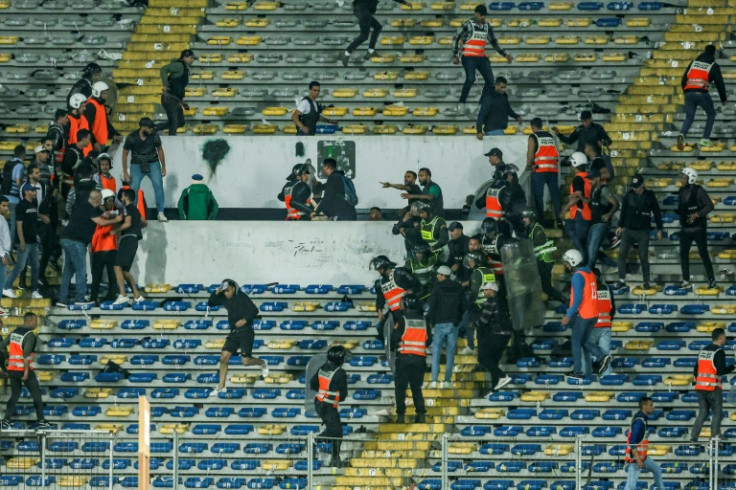 Morocco should investigate alleged failures that led to a football fan's death when a massive crowd filled a Casablanca stadium beyond capacity, a local official told AFP on Sunday.
The 29-year-old woman, a Raja Casablanca fan, died at a local hospital after losing consciousness at the Mohammed V stadium just before her team's match on Saturday against Egypt's Al Ahly in the CAF Champions League quarter-finals.
Video clips shared by local media show fans facing off with security guards as they try to force their way into the venue even after its gates had been shut.
Karim Glaibi, a member of the stadium's oversight committee, told AFP: "We currently do not hold anyone accountable, but we ask that an investigation be opened so that we know who is responsible for this disaster."
"The number of fans exceeded the number of tickets issued," he said, not ruling out "ticket fraud".
Glaibi insisted the number of tickets sold did not "exceed the stadium's capacity".
Local authorities said on Saturday they had launched a probe into the causes of the fan's death, but Glaibi and others are demanding a broader investigation into the deadly incident.
Mohamed El Ghaloussi, president of the non-governmental Moroccan Association for the Protection of Public Funds (AMPBP), called in a Facebook post to "open a broad investigation not only into the... circumstances of the death of this young woman, but also into the direct and indirect causes of the chaos at the stadium" and other "failures" by the organisers.
Overcrowding is a persistent issue for the stadium in central Casablanca.
Authorities are looking into the construction of a new stadium outside the city, Glaibi said, as Morocco hopes to win a joint bid with Spain and Portugal to host the 2030 World Cup.
In the match, Ahly drew 0-0 with Raja to qualify for the 2-0 on aggregate for the semi-final against Esperance of Tunisia.
Clashes between police and spectators delayed the Esperance quarter-final by 45 minutes, before the Tunisians drew 1-1 with JS Kabylie of Algeria to advance.
© Copyright AFP 2023. All rights reserved.