Central Asia Leaders Converge In China As Xi Touts 'Enduring' Friendship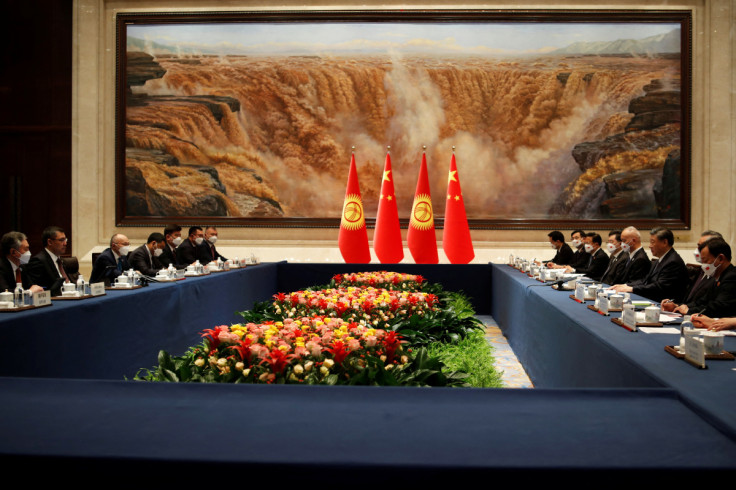 Central Asian heads of state converged in China's historic city of Xian on Thursday for one-on-ones with Chinese leader Xi Jinping to seal pledges of "enduring" friendship, and paving the way for a summit expected to result in a regional pact with Beijing.
The bilateral talks will set the stage for a group meeting on Friday, the first in-person gathering of the six leaders, where Xi will deliver an "important" speech and an "important" political document will be signed, China's foreign ministry has said.
Across the Silk Road city of Xian, banners, billboards and even taxi signs were set up to promote the summit, with some in both Chinese and Russian.
A large contingent of foreign journalists was also present to cover the event, including reporters from Africa where China is similarly seeking to assert and expand its economic and political clout.
The president of energy-rich Turkmenistan, the most distant of the Central Asian states from China, was the last of the five leaders to arrive, landing in Xian in the early hours of the morning on Thursday.
The first to land was President Kassym-Jomart Tokayev of Kazakhstan - China's largest trading partner in Central Asia - with his face-to-face meeting with Xi on Wednesday ending with a deal to build "enduring friendship" and share "weal and woe".
"We have a common goal - to intensify bilateral relations," Tokayev told Xi.
"We are also united by the desire to strengthen regional and international security and cooperation."
The two sides agreed to take measures to ensure the safe and stable operation of the Kazakh section of the China-Central Asia natural gas pipeline. They also agreed to deepen cooperation in oil and uranium.
Tokayev's deal with Xi will set the tone for the other bilateral meetings, where China will seek deeper cooperation with other Central Asia states in its quest to achieve greater food, energy and national security.
Two-way trade between China and Central Asia hit a record $70 billion last year, with Kazakhstan leading with $31 billion. Kyrgyzstan followed with $15.5 billion, Turkmenistan with $11.2 billion, Uzbekistan with $9.8 billion and Tajikistan with $2 billion.
Xi's summit with the Central Asian leaders will conspicuously overlap with a meeting of the Group of Seven leaders in Japan starting Friday, where Beijing's use of "economic coercion" in its dealings abroad is expected to be on the agenda.
© Copyright Thomson Reuters 2023. All rights reserved.