China Courts Central Asia As Russia's Influence Wanes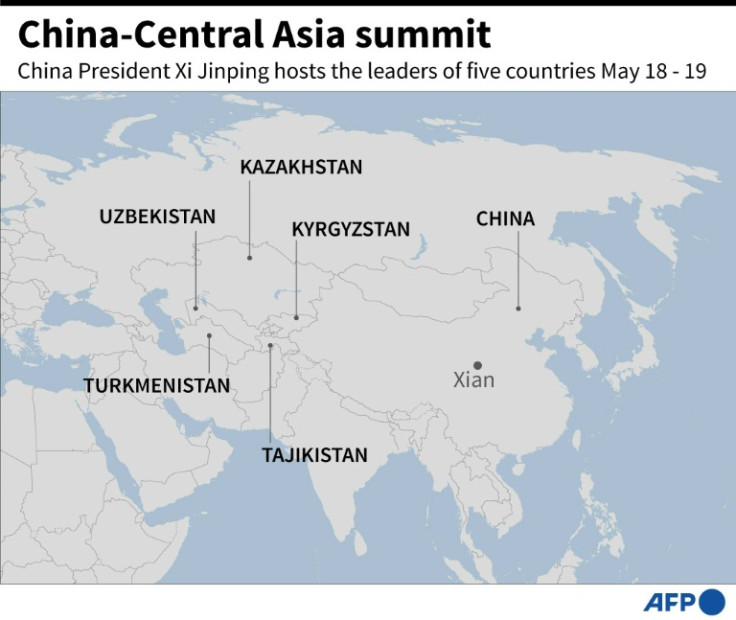 China is renewing its push for massive infrastructure projects in Central Asia as Beijing aims to fill the vacuum left in former Soviet states by Russia, which is ensnared in a widening net of Western sanctions over the Ukraine war.
Central Asia has become key to China's trillion-dollar Belt and Road Initiative, a defining geopolitical project for President Xi Jinping.
Around 150 countries have received Chinese funds to build roads, ports, railways or hydroelectric dams.
Beijing says trade with Kazakhstan, Kyrgyzstan, Tajikistan, Turkmenistan and Uzbekistan reached $70 billion in 2022 and expanded 22 percent year-on-year in the first quarter of 2023.
Analysts say Russia's war in Ukraine has further shifted the dynamic in Beijing's favour -- leading many in the region to question their long-standing ties with Moscow and seek economic, diplomatic and strategic assurances elsewhere.
"After the Russian aggression in Ukraine, the Central Asian republics started to fear for their sovereignty," Ayjaz Wani, a fellow at the Observer Research Foundation in Mumbai, told AFP.
Xi will host the leaders of the five countries in the western city of Xi'an this week for a summit Beijing has described as of "milestone significance".
Bound by shared borders and a long history, the choice of Xi'an -- the historic eastern end of the Silk Road -- is fitting.
The summit is likely to see efforts to push ahead with vast transport links and pipelines, including a long-stalled $6 billion China-Kyrgyzstan-Uzbekistan railway and an expansion of the Central Asia-to-China gas pipeline.
"China's approach to Central Asia has been very consistent," said Nargis Kassenova, director of the Central Asia programme at Harvard's Davis Center for Russian and Eurasian Studies, pointing to long-standing ties in security, infrastructure and development.
Russia's war in Ukraine, she said, only "pushed Central Asian countries deeper into China's embrace".
China's inroads into Central Asia have not always been popular, however.
In 2019, protests broke out in Kazakhstan, which has described itself as the "buckle" in the Belt and Road project, over perceived Chinese expansionism in the country.
The following year, a Chinese investor that had planned to pour nearly $300 million into a trade and logistics centre in Kyrgyzstan quit the project over local protests.
Beijing says the initiative aims to deepen friendly trade relations, particularly with the developing world.
But critics have long accused China of luring lower-income countries into debt traps by offering huge, unaffordable loans.
"China has developed a system of 'Bailouts on the Belt and Road' that helps recipient countries to avoid default, and continue servicing their BRI debts, at least in the short run," a report published in March by the US-based research lab Aidata said.
Beijing's big spending -- and fears it could use its clout to influence domestic politics -- have "fed growing phobias", Sebastien Peyrouse, a research professor at George Washington University's Central Asia Program, told AFP.
China's development is seen as a model in the region, he said, but many fear Beijing's approach is fundamentally extractive.
Another source of contention is Xinjiang, where Western governments accuse Beijing of conducting a crackdown that has allegedly seen over a million Uyghur and other mostly-Muslim minorities placed in forced re-education camps.
Uyghur ties to Central Asia run deep, and a shared religious and ethnic heritage means their plight has provoked widespread sympathy in the region and fuelled anti-China sentiment.
Analysts argue that China is more popular with elites in Central Asia than with the people, as politicians are desperate for investments that don't always garner popular support.
"This partly stems from the vast population and economic asymmetry between them and China," the Middle East Institute's Li-Chen Sim said.
Also feeding opposition is "resentment over the lack of job opportunities for locals in Chinese-funded projects" and "the high levels of indebtedness to China", she added.
"Anti-Chinese sentiment has risen in some places," said Stefan Hedlund, a professor at Uppsala University in Sweden.
"Whether this may be overridden by massive economic inflow remains to be seen."
The region is not a monolith, and analysts say Beijing has not always been sensitive to the deep differences between the nations that comprise Central Asia.
And while attitudes appear to be shifting, research cited by London think tank the Royal United Services Institute showed that Central Asians still hold vastly more positive views towards Russia than China.
"Most of the people in the region think in terms of 'Russian yoke is made of leather that can gradually be worn out, while Chinese yoke is made of iron and one can't free oneself from it'," the Observer Research Foundation's Wani said.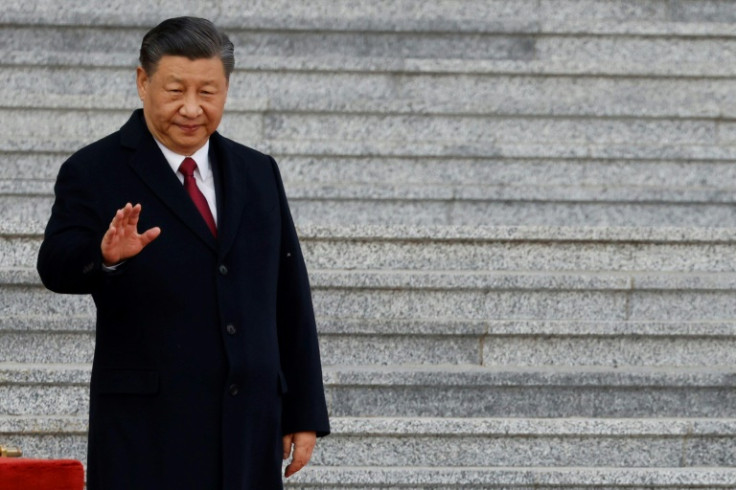 © Copyright AFP 2023. All rights reserved.