Disinformation Adds Dark Note To Pivotal Turkish Election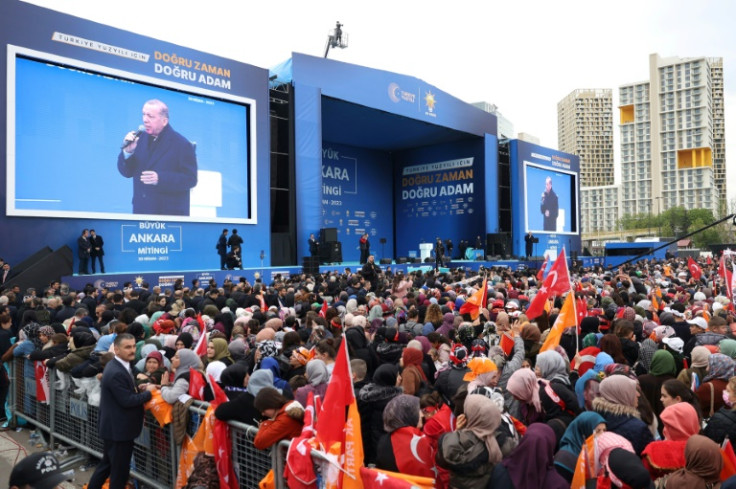 The clip lasted 14 seconds, presented by Turkish President Recep Tayyip Erdogan as proof that his rival in Sunday's election was running "hand in hand" with outlawed Kurdish militants.
Aired at a huge rally and beamed live on TV, the video showed opposition leader Kemal Kilicdaroglu trying to rally his supporters to the tune of his campaign song.
In the next sequence, members of Turkey's banned PKK group echoed that call while clapping their hands to the beat of Kilicdaroglu's election jingle.
The message Erdogan was trying to project was clear: the secular opposition leader had formed a union with "terrorists".
Only it was a montage, one of the latest pieces of disinformation to pollute the campaign of one of Turkey's closest and most important elections in generations.
"How can a person sitting in the president's chair stoop this low," Kilicdaroglu, whose campaign has been endorsed by Turkey's main pro-Kurdish party, fumed on Tuesday.
Running neck-and-neck with Erdogan, Kilicdaroglu claims that "foreign hackers" recruited by Erdogan's team are preparing deepfakes -- manipulated videos and soundbites -- aimed at discrediting rivals days before the election.
"Dear Russian friends," he added on Twitter on Thursday.
"You are behind the montages, conspiracies, deepfake content and tapes that were exposed in this country," he said without explaining why he was blaming Russia.
"If you want our friendship after May 15, get your hands off the Turkish state."
Erdogan has responded in kind, alleging that "an army of trolls" was working for his rival.
"You are using lies and misinformation. You are devising schemes that even the devil would not have thought of," Erdogan told the opposition leader on television.
Turkey's social media became a political battlefield last October, when parliament adopted a law making the spread of "fake news" punishable by up to three years in prison.
Weeks later, Kilicdaroglu became one of the first to be prosecuted under the law for alleging that Erdogan's Islamic-rooted government was responsible for a "methamphetamine epidemic" in Turkey.
Dunja Mijatovic, the Council of Europe's commissioner for human rights, warned in May that the law's "extensive use" was having a "chilling effect on journalists and critical voices".
Suncem Kocer, a disinformation specialist at Istanbul's Koc University, said such charges and counter-charges had never featured to this extent in past Turkish elections.
"Everybody is trying to define what disinformation is," Kocer said. "It has turned into a weapon to kind of criminalise the opposite candidate or party. This is something new."
But the actual methods of spreading disinformation remain the same, said Gulin Cavus, co-founder of Turkey's Teyit fact checking site.
They appear "on social networks, but also during meetings", in images that are either cropped or taken out of context.
In one example earlier this week, Erdogan showed an excerpt of a newspaper article on a big screen suggesting that Kilicdaroglu had been found guilty of fraud in 1996.
In the original article, quickly unearthed by journalists from Teyit, Kilicdaroglu had actually denounced fraud committed by people who took advantage of Turkey's social security agency, which he then headed.
"These videos can make a real impact on people with little training in media and with digital tools," Cavus said.
Some of the disinformation relies on more tried and tested methods such as fake campaign literature.
One leaflet claiming to come from Kilicdaroglu's team promises to withdraw Turkey's troops from Syria and halt all military operations against the PKK.
Kocer said all this disinformation was unlikely to sway Sunday's outcome, where turnout among Turkey's 64 million voters is likely to be high.
"But disinformation certainly works towards increasing the polarised atmosphere, which is the real danger," Kocer said.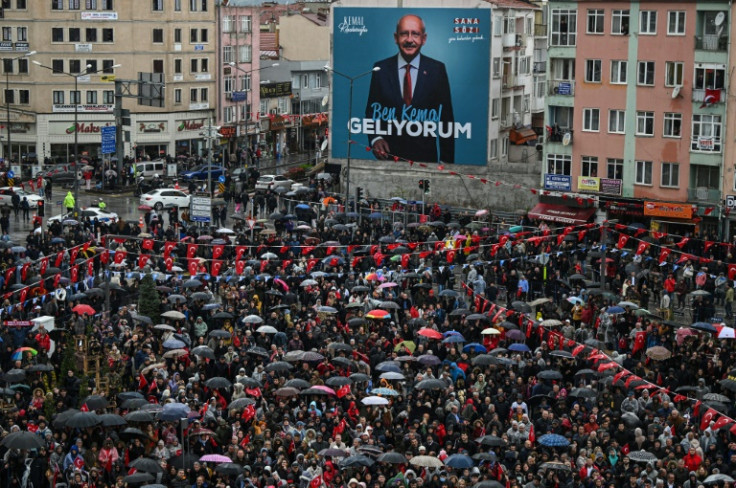 © Copyright AFP 2023. All rights reserved.