Egypt's Sisi Meets UAE Leader Amid Economic Woes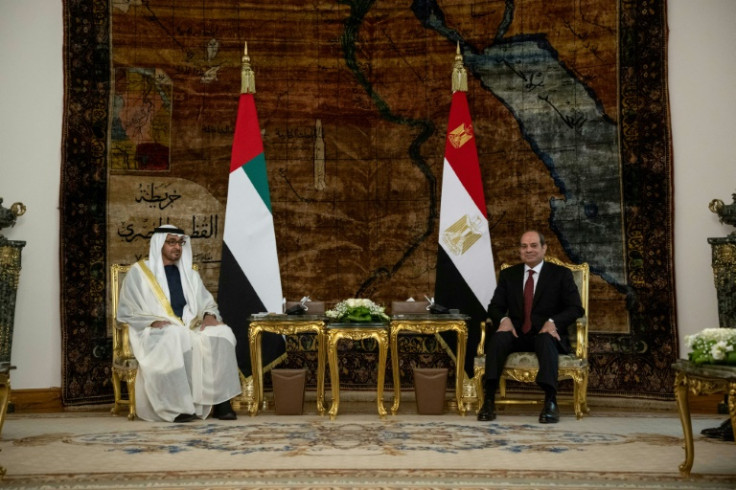 Egyptian President Abdel Fattah al-Sisi on Wednesday welcomed his Emirati counterpart Sheikh Mohamed bin Zayed al Nahyan in Cairo, his latest meeting with a leader from the oil-rich Gulf amid his country's economic crisis.
Sisi has been courting Gulf leaders as Egypt grapples with economic turmoil that has seen official inflation shoot up to nearly 34 percent and the local currency halve in value over the past year.
The two leaders "explored opportunities to further strengthen the deep-rooted ties between the UAE and Egypt", Sheikh Mohamed tweeted.
They also "discussed our shared interest in promoting regional stability and progress", he added.
Egypt was hit hard by the impact of Russia's invasion of Ukraine last year, having heavily relied in wheat imports and revenues from tourism from both countries.
Cairo's foreign reserves fell by about 20 percent in one year to $34.45 billion -- about $28 billion of which are deposits from wealthy Gulf donors.
Experts have for months warned that Egypt is among the top five countries at risk of defaulting on its debt, which hit a record high of $162.9 billion at the end of 2022, according to official figures.
But Sisi's Gulf allies -- on whose support he relied after deposing Islamist president Mohamed Morsi in 2013 -- are now demanding economic reform and greater transparency in return for their largesse.
Earlier this month, Sisi visited Saudi Arabia where he met de facto leader Crown Prince Mohammed bin Salman.
Cairo also serves as the headquarters of the Arab League and on April 1 welcomed Syrian Foreign Minister Faisal Mekdad, who on Wednesday was in Saudi Arabia for the first time since his country's civil war broke out.
The visits are part of efforts, largely spearheaded by the UAE, to bring Syria back into the Arab fold. A meeting is due to be held in Jeddah on Friday to discuss allowing President Bashar Al-Assad's Syrian government to attend an Arab League summit next month.
© Copyright AFP 2023. All rights reserved.