Erdogan Cuts Off TV Interview Citing Stomach Bug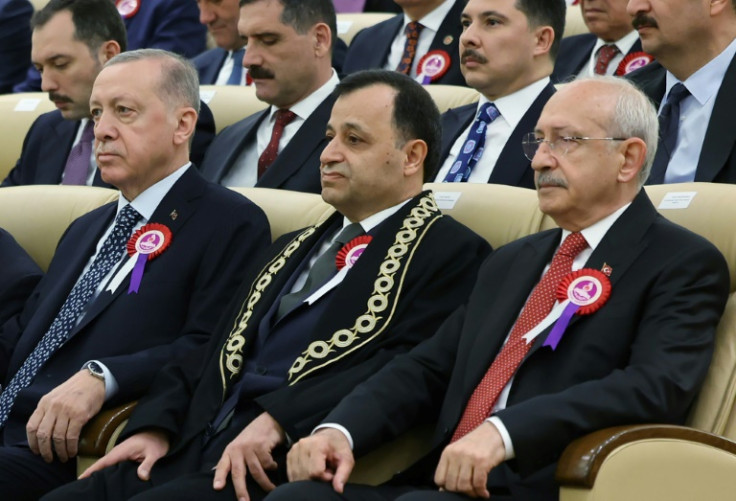 Turkish President Recep Tayyip Erdogan on Tuesday interrupted a live television interview before returning and apologising, saying he had developed a stomach bug.
The 69-year-old Turkish leader on Tuesday gave three campaign speeches heading into a knife-edge parliamentary and presidential election on May 14.
He was due to close out the night by appearing live for a joint interview with Ulke TV and Kanal 7.
However, his television appearance began more than 90 minutes behind schedule and then cut off in the middle of a question ten minutes into the show.
The camera shook and the reporter asking the question stood up from his chair when the broadcast cut off.
"Oh wow," an unidentified voice could be heard saying off camera.
Erdogan returned about 15 minutes later to apologise for getting sick.
"Yesterday and today were hard work. That's why I got a stomach flu," Erdogan said.
"At one point, I wondered if it would be misunderstood if we cancelled the programme. But we promised. I ask for your and our audience's forgiveness."
His face looked tired and his eyes appeared to water as he spoke.
The Turkish leader then took a few more questions before ending the broadcast.
Erdogan and his Islamic-rooted party have dominated Turkish politics for the past 20 years.
But the campaign is posing one of Erdogan's toughest challenges of his mercurial rule.
Polls show him running neck-and-neck or losing to opposition leader Kemal Kilicdaroglu.
"I convey my best wishes to Mr. Erdogan," Kilicdaroglu tweeted moments after the episode aired.
© Copyright AFP 2023. All rights reserved.