Erdogan Rallies His Base Ahead Of Sunday's Vote

Turkish President Recep Tayyip Erdogan readied Friday to meet his hardcore supporters in the final countdown to the toughest election challenge of his two-decade rule.
Erdogan has been campaigning round the clock as he nears momentous polls Sunday that put his Islamic style of rule in the only Muslim-majority member of NATO on the line.
Opinion surveys show secular challenger Kemal Kilicdaroglu with a slight advantage and within a whisker of breaking the 50-percent threshold needed to avoid a runoff on May 28.
The opposition was helped by the withdrawal of a third-party candidate Thursday who was hurting Kilicdaroglu's efforts to hand the Turkish leader his first electoral defeat.
Erdogan was uncharacteristically shy about making any prediction about the outcome of Turkey's most consequential election of modern times.
"The ballot box will tell us Sunday," he said in response to a direct question from a TV presenter about whether he will win.
The 69-year-old also conceded that he was having a tough time winning over younger voters who have no memories of the corruption and economic chaos that ravaged Turkey under secular governments in the 1990s.
"There is a generation in our country that has not experienced any of the troubles that we experienced," he said in another appearance this week.
Erdogan planned Friday to rally supporters in a historically conservative district of Istanbul before meeting the faithful at the opening of a new city mosque -- one of thousands built across Turkey during his rule.
"We find it difficult to explain our values to this new generation. Our young people are making comparisons not with the old Turkey, but with countries that have much better conditions than they do here."
Erdogan's frank admissions hint at a growing realisation that he might not be able to pull out one of his trademark come-from-behind wins.
The Turkish leader has been slowly losing support from key segments of the population that rallied around him during a more prosperous decade that followed his rise in 2003.
Some polls show young people who have known no other leader supporting Erdogan's rival by a two-to-one margin.
Kurds who once put trust in his efforts to end their cultural persecution are now also overwhelming backing Kilicdaroglu's campaign.
And an economic crisis -- Turkey's worst in quarter of a century and one most blame on Erdogan's unorthodox economic beliefs -- has pushed other groups to lose faith with his government.
This has left the president with few options but to try and rally his most hardcore nationalist and religious supporters to show up and vote in large numbers.
He appeals on his followers to "crush the ballot boxes" and accuses the West of bankrolling his opponents in an effort to undermine Turkey's sovereignty.
Some veteran Turkey watchers view the vote as an existential battle for Turkey's democratic future after years of crackdowns on dissent.
"Either Erdogan will lose, giving Turkey a chance of restoring full democracy, or he will win and likely remain in power for the rest of his life," Washington Institute senior fellow Soner Cagaptay said.
Kilicdaroglu appears to sense the undercurrents of discontent running through Turkish society.
The former civil servant has tried to run an inclusive campaign that ignores Erdogan's personal attacks and focuses on pledges to restore economic order and civil liberties.
"You will be able to criticise me very easily," he told young people during the campaign.
He has surrounded himself with economists trusted by Western investors and some former Erdogan allies who could help peel away the president's nationalist vote.
The 74-year-old also accused unnamed Russian actors of trying to meddle on Erdogan's behalf in the election -- a charge "strongly" denied by the Kremlin on Friday.
Kilicdaroglu said his immediate goal after the election will be to launch a process aimed at stripping the presidency of many of the powers Erdogan amassed after a failed 2016 coup.
The bloody putsch attempt was a watershed moment in Turkey's history.
Erdogan responded with a purge that jailed thousands of soldiers for life and stripped tens of thousands of Turks of their government jobs.
Kilicdaroglu wants to hand power that Erdogan won through a contested constitutional referendum the following year back to parliament.
That would require the opposition to win Sunday's parallel legislative election.
Polls show Erdogan's right-wing alliance edging out the opposition bloc in the parliamentary ballot.
But the opposition would win a majority if it secured support from a new leftist alliance that represents the Kurdish vote.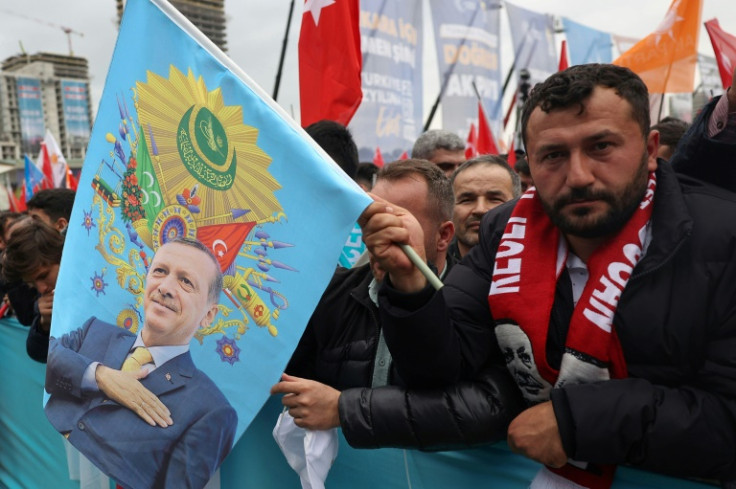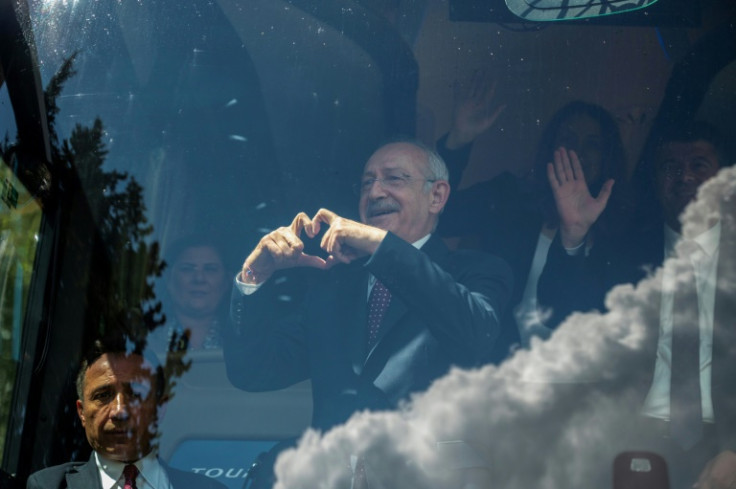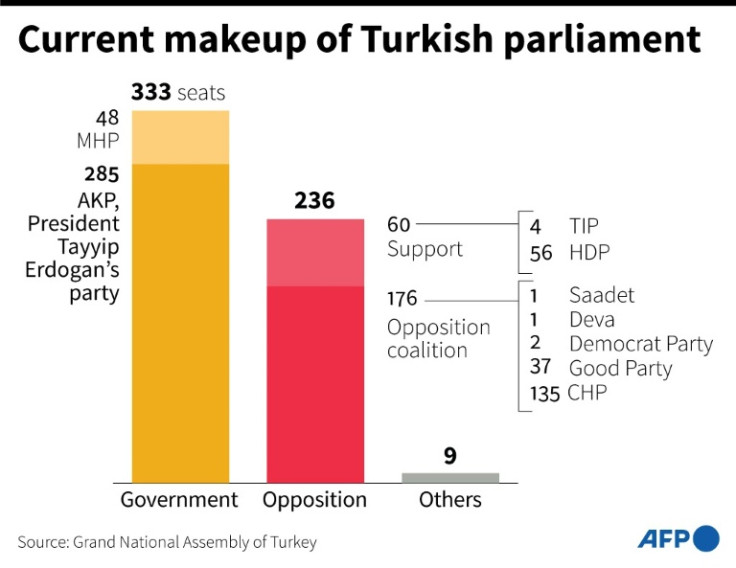 © Copyright AFP 2023. All rights reserved.