Erdogan, Rival Draw Vast Crowds Ahead Of May 14 Vote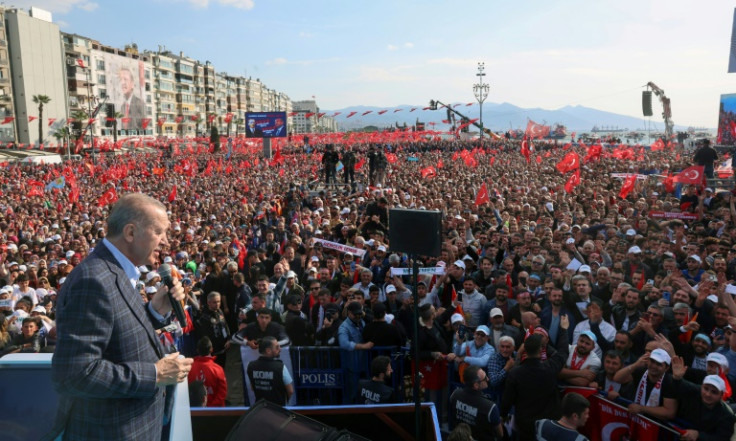 President Recep Tayyip Erdogan and his main opponent staged massive rival rallies on Sunday, setting the stage for a bruising battle in the final two weeks of Turkey's election campaign.
The veteran Turkish leader filled a central Ankara square that can fit a few hundred thousand people with flag-waving supporters, showing no signs of an illness that sidelined him for three days this week.
"Are we ready to come out with a crushing victory?" Erdogan, draped in a scarf of the Turkish capital's main football club, demanded from the enthusiastic crowd.
"On May 14, our nation, God willing, will eliminate them from the political scene," he said of secular leader Kemal Kilicdaroglu and his six-party opposition alliance.
The 69-year-old president has bounced back strongly from what was described as a digestive problem in the run-up to one of Turkey's most important elections of its post-Ottoman history.
The illness shook Erdogan's strongman image, which he has cultivated over two decades of economic booms and busts, social transformation and crackdowns on dissent.
"As you know I was sick recently, and from every house people were praying for me," Erdogan told the crowd.
"I am trying to be worthy of those prayers."
Kilicdaroglu, 74, and his multi-faceted alliance are posing Erdogan's toughest election challenge since the Turkish leader's Islamic-rooted party first swept to power in 2002.
Erdogan became prime minister a year later, consolidating control as a powerful president under a new constitution in 2018.
The upcoming vote is too close to call and likely heading to a runoff on May 28.
Kilicdaroglu and his allies have fanned out across the country, holding daily events that are starting to get coverage on pro-government media that dominate Turkey today.
He staged an equally massive rally along the embankment of the opposition-controlled Aegean city of Izmir, where Erdogan drew slightly smaller crowds on Saturday.
"These elections are elections to rebuild our democracy," Kilicdaroglu, a former civil servant told the cheering crowd after walking out on stage with his wife, Selvi.
"We will bring peace to this country, I will bring brotherhood to this country," Kilicdaroglu said.
The massive turnout is a sign of the huge interest Turks have in the election, which has turned into a referendum on Erdogan's rule.
His party is also in danger of losing control of parliament, which it holds through an alliance with an ultra-nationalist group.
Erdogan in 2019 lost landmark municipal votes in Ankara, Istanbul and Izmir -- Turkey's three biggest and most economically powerful cities.
But his decision to campaign in all three hints at the close nature of the vote.
"Ankara has a huge responsibility," Erdogan told the crowd.
© Copyright AFP 2023. All rights reserved.