Erdogan's Chief Rival Defends Kurds Ahead Of Vote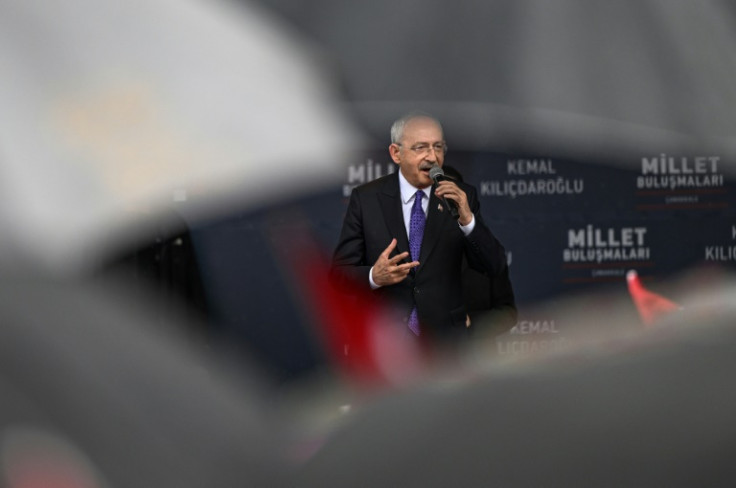 President Recep Tayyip Erdogan's chief rival in next month's election defended Kurdish rights on Tuesday and accused the Turkish leader of inflating ethnic tensions for political gain.
Kemal Kilicdaroglu's comments followed weeks of attempts by Erdogan to link the opposition with Kurdish militants who have been waging a deadly insurgency against the Turkish state.
Kilicdaroglu leads a six-party alliance that is posing one of the stiffest electoral challenges of Erdogan's two-decade rule.
The May 14 presidential ballot appears too close to call.
Erdogan's continued control of parliament through an alliance between his Islamic-rooted party and a far-right group also appears in doubt.
The Turkish leader has tried to energise his nationalist base of supporters by casting Kilicdaroglu -- an ethnic Alevi from a largely Kurdish region -- as a foreign-backed promoter of Turkey's domestic enemies.
Kilicdaroglu responded with one of his most robust defences of Kurdish rights to date.
"Millions of Kurds are currently being treated as terrorists," Kilicdaroglu said in a video message posted on Twitter.
"Whenever we talk about elections, whenever the (presidential) palace sees that it will lose the elections, a collective stigma and treatment of the Kurds as terrorists begins. It is shameful," he said.
Erdogan's attacks began after Turkey's main pro-Kurdish party -- in danger of being disbanded over its alleged ties to the militants -- gave Kilicdaroglu its tacit support last month.
The party has picked up more than 10 percent of the vote in past national elections and is seen as a kingmaker in the race.
Erdogan enjoyed some support from Kurdish voters in the early stages of his rule.
His government tried to broker a ceasefire with the militants under which Kurds would enjoy more autonomy in Turkey's southeast.
A breakdown of those talks was followed by a failed 2016 coup attempt that Erdogan responded to by unleashing purges in which tens of thousands were jailed or lost their government jobs.
Kilicdaroglu has pledged to free Erdogan's political rivals from jail if elected.
"They will now let the prisoners rejoin the government," Erdogan fumed in one of his speeches last weekend.
© Copyright AFP 2023. All rights reserved.