EU Hails Progress After Armenia, Azerbaijan Leaders Meet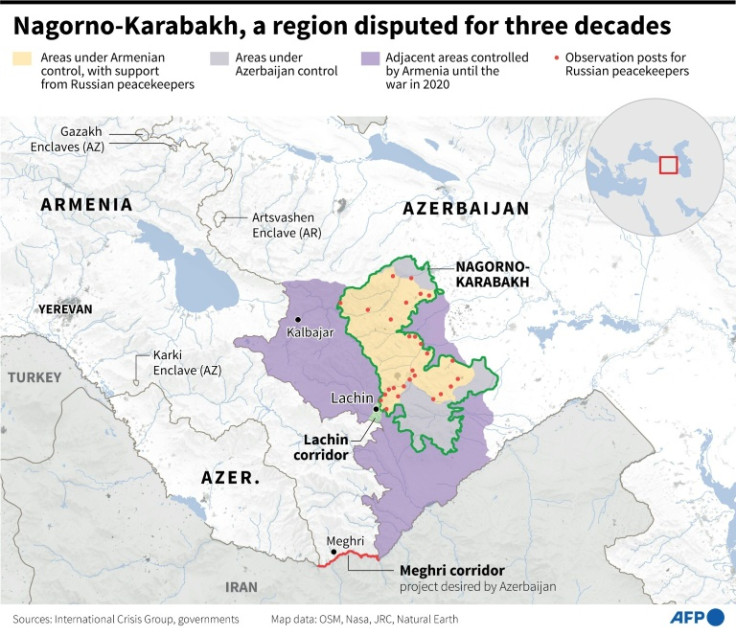 European Council President Charles Michel spoke of progress in talks between the leaders of Armenia and Azerbaijan in Brussels on Sunday, adding that "momentum should be maintained" towards a final peace deal.
Michel hosted talks with Armenian Prime Minister Nikol Pashinyan and Azerbaijani President Ilham Aliyev amid heightened tensions on their common border over control of the contested enclave of Nagorno-Karabakh.
Michel had already met with Pashinyan on Saturday evening and with Aliyev on Sunday morning.
The EU officials assured, at the end of the meetings, that the two leaders "shared a common willingness for a south Caucasus at peace," describing their exchanges as "frank, open and result oriented".
Sunday's meeting between the Armenian and Azerbaijani leaders was the fifth of its kind under European mediation.
"Following the recent positive talks held in the United States on a peace treaty, the momentum should be maintained to take decisive steps towards the signing of a comprehensive peace agreement between Armenia and Azerbaijan," Michel said afterwards.
The two leaders met in Brussels after fresh clashes on the border between the two Caucasus countries.
On Friday, the Armenian government announced that one Armenian soldier had been killed and two others wounded by Azerbaijani forces.
On Thursday, an Azerbaijani soldier was killed and four Armenian soldiers wounded in other clashes.
Pashinyan accused Azerbaijan of seeking to "undermine the talks" in Brussels and said there was "very little" chance of signing a peace accord with Aliyev during the meeting.
But after the talks, Michel said the two leaders had made "clear progress" in their discussions aimed at unblocking transport and economic links in the region.
"On border issues we reviewed progress and the next steps regarding the delimitation of the border, and in this context the leaders agreed on resumption of the bilateral meetings on border issues," he added.
In another sign of progress, there was "an understanding" between Pashinyan and Aliyev that "further detainees would be released in the coming weeks," said Michel.
The neighbours fought two wars in the early 1990s and 2020 over control of Nagorno-Karabakh, a mountainous region mostly populated by Armenians that seceded from Azerbaijan more than three decades ago.
After a brief war that saw Azerbaijan retake territory in the separatist region in the autumn of 2020, Baku and Yerevan agreed to a ceasefire brokered by Russia.
Russian peacekeepers have since been deployed in Nagorno-Karabakh, but Armenia has complained for several months that they are ineffective.
Tensions flared recently when Baku announced on April 23 that it had set up a first road checkpoint at the entrance to the Lachin corridor, the only route linking Armenia to the separatist enclave.
It is already under a blockade that has caused shortages and power cuts.
Another meeting between Pashinyan and Aliyev has already been scheduled for June 1 in Moldova, also involving French President Emmanuel Macron and German Chancellor Olaf Scholz.
© Copyright AFP 2023. All rights reserved.