Germany, China Clash Over Ukraine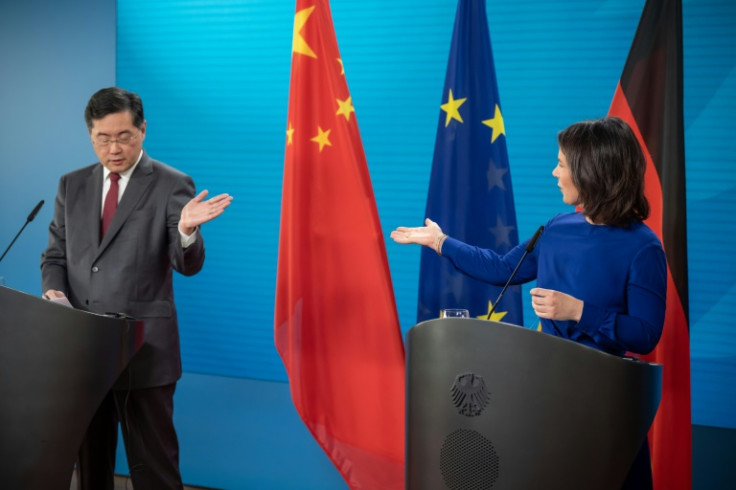 China and Germany traded barbs on Tuesday over Ukraine, with Beijing warning the EU against sanctions targeting its companies while Berlin said "neutrality" in the conflict meant taking Russia's side.
At their second meeting in a month, the foreign ministers of the two countries, Qin Gang and Annalena Baerbock, clashed repeatedly over major powers' responsibilities on the world stage.
Qin warned the European Union against imposing punitive measures again Chinese companies over Russia, saying it would take action to protect their interests.
Referring to discussions within the EU over possible restrictions on eight Chinese companies, he said that if punitive action was taken, "China will also take the necessary response to firmly protect the legitimate interests of Chinese companies".
Chinese and Russian companies enjoy "normal exchanges and cooperation" which "should not be affected", Qin said, following talks in the German capital with Baerbock.
China was "firmly against" other countries imposing their own regulations or taking unilateral action against it, added Qin, who is on a European tour also taking in France and Norway.
EU ambassadors are meeting on Wednesday to begin discussions on an 11th round of sanctions over Russia's war on Ukraine.
As part of the package, the EU's executive has recommended halting exports of sensitive technologies to eight Chinese companies over suspicions they were selling them on to Russia, according to a document seen by AFP.
The EU wants to crack down on the re-exportation via third countries to Russia of sensitive technology that can be used on the battlefield, such as microchips.
Baerbock declined to discuss specific measures the bloc might take against China but said the EU wanted to ensure that existing sanctions against Russia are not "being subverted in a roundabout way" via third countries.
"It is particularly critical when Russian armaments companies acquire goods relevant for the war," she said. "We expect all countries -- we also expect from China -- to use its influence on its companies to this end".
Qin insisted Beijing had always pushed for "peaceful dialogue" to end the war in Ukraine, saying it did not want to "pour oil on the fire" with excessive intervention.
China will dispatch a special envoy to Ukraine on the matter, he said, urging Germany to do more to push for a ceasefire and peace talks.
But Baerbock pressed Beijing to take a clear stance against Russia, warning that failing to help Ukraine meant siding with Moscow.
"Neutrality means taking the side of the aggressor, and that is why our guiding principle is to make it clear that we are on the side of the victim," she said.
Qin cautioned that Germany as Europe's top economy would pay a heavy price if it sought to "decouple" from China, or distance itself economically from the Asian giant over political "differences".
Earlier in a speech before the European Parliament, German Chancellor Olaf Scholz acknowledged that "rivalry and competition on the side of China have certainly increased".
He wholeheartedly backed the stance of European Commission President Ursula von der Leyen that a "smart de-risking" of Europe from China was needed, rather than the tougher line the United States was pressing for.
Beijing has sought to portray itself as a neutral party in Russia's war in Ukraine, with President Xi Jinping last month holding his first call with Ukrainian leader Volodymyr Zelensky since Moscow's invasion.
© Copyright AFP 2023. All rights reserved.