In Israel, Iranian Shah's Son Urges Support For Protests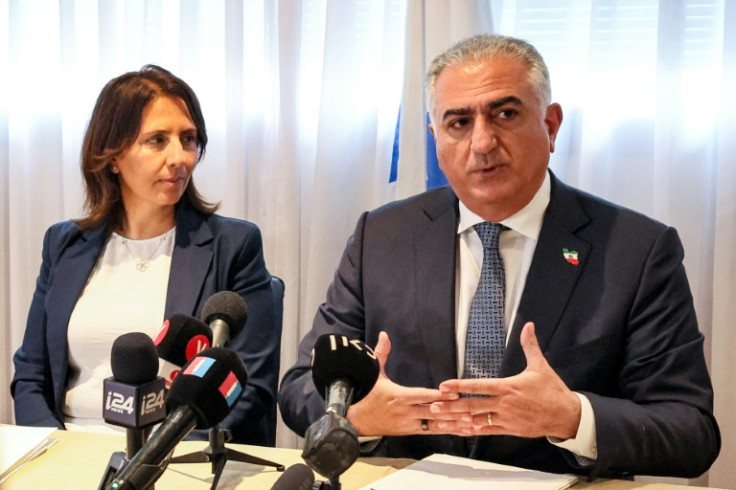 Reza Pahlavi, the son of Iran's last shah, called Wednesday during a visit to Israel for "maximum" international backing for the protest movement that rocked the Islamic republic following Mahsa Amini's death.
"I'm... here to explore how can we cooperate in helping the Iranian people in their campaign for freedom," Pahlavi said at a news conference in Tel Aviv alongside Israeli Intelligence Minister Gila Gamliel.
Pahlavi, who lives in the United States, represents one of the many components of Iran's foreign-based opposition but has failed to gain unanimity among the diaspora.
His father was overthrown during the 1979 Islamic revolution, which transformed Israeli-Iranian ties from a close alliance under the shah to bitter rivalry nowadays.
Iranian authorities have accused Israel and other foes of the Islamic republic of fomenting the unrest that followed Amini's death in custody in September after her arrest for an alleged breach of strict dress rules for women.
Pahlavi argued "international support" is key for the protest movement to succeed in "putting an end to the existing regime".
"Parallel to... a campaign of maximum pressure" of sanctions against Tehran, "I've been calling... for a campaign of maximum support" for the Iranian people, Pahlavi said.
He argued such backing would give ordinary Iranians "the right tools to overcome the challenges they have, facing the regime that... has been extremely brutal and repressive".
Hundreds of people were killed, including dozens of security personnel, and thousands were arrested in connection with the protests, which Iranian officials labelled "riots".
Pahlavi is accused by some of having failed to distance himself from the authoritarian rule of his father, though he has insisted over the years he is not seeking a return to monarchy.
Asked about Pahlavi's visit to Iran's arch-enemy Israel, Nasser Kanani, spokesman for Tehran's foreign ministry, said: "The person you speak of is not worth talking about."
© Copyright AFP 2023. All rights reserved.