Israeli Forces Kill Palestinian Teen In West Bank Raid, Palestinian Officials Say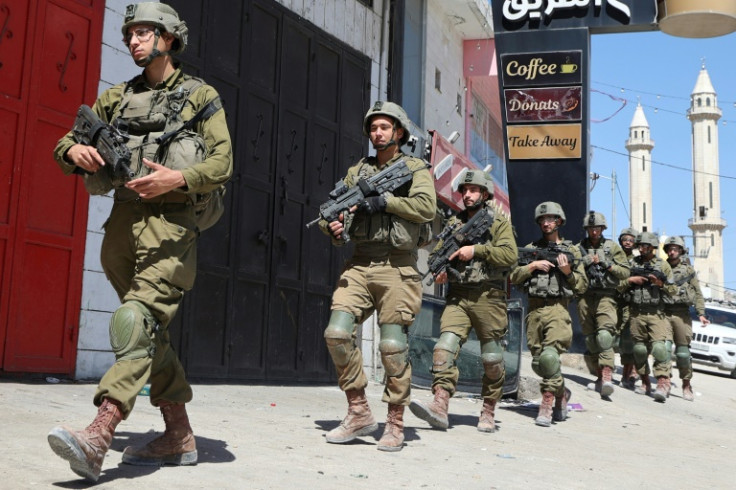 Israeli forces shot dead a Palestinian teenager during a morning arrest raid that led to clashes in a refugee camp outside the city of Jericho in the occupied West Bank, Palestinian health officials said.
The Palestinian health ministry said 17-year-old Jibril Kamal died after being shot in the head. Six other people were wounded during the raid, with three of them in serious condition, the ministry said.
The Israeli military said that during its raid on the Aqabat Jabr refugee camp, its troops shot at suspects who had fired at them and that targets were identified.
Videos on social media showed a convoy of armored military vehicles driving between houses as shots rang out in the distance. A Reuters journalist said the military put up checkpoints controlling movement in and out of the area.
The Jericho raid came amid operations across the West Bank on Monday that ended in at least 17 arrests and confiscation of weapons. Near the troubled northern West Bank city of Jenin, the Islamic Jihad movement said one of its officials Mahdi al-Sharqawi had been arrested.
Speaking to Reuters from the Jericho Hospital, director Naser Anani said: "The situation is very difficult. It exists in every city, in every refugee camp and it is the price we pay for resisting the occupation."
Jericho Governor Jihad Abu al-Asal said the Israeli government must be held responsible.
"We tell the world, don't leave this refugee camp prey to this occupation."
In a separate incident, the Palestinian health ministry said Israeli soldiers critically wounded a 20-year-old Palestinian in Bethlehem around dawn on Monday.
The military said it was not aware of any people wounded in the Bethlehem area, where security forces confiscated weapons.
Israeli-Palestinian violence has surged this year, with frequent military raids and violence by Israeli settlers amid a spate of Palestinian attacks. More than 90 Palestinians and at least 19 Israelis and foreigners have been killed since January.
Israel captured the West Bank, which Palestinians hope wil form the core of a future independent state, in the 1967 Middle East war. It has since built large settlements there while U.S.-sponsored statehood talks have stalled.
© Copyright Thomson Reuters 2023. All rights reserved.