Pakistan Social Media Blackout Boosts Khan's Momentum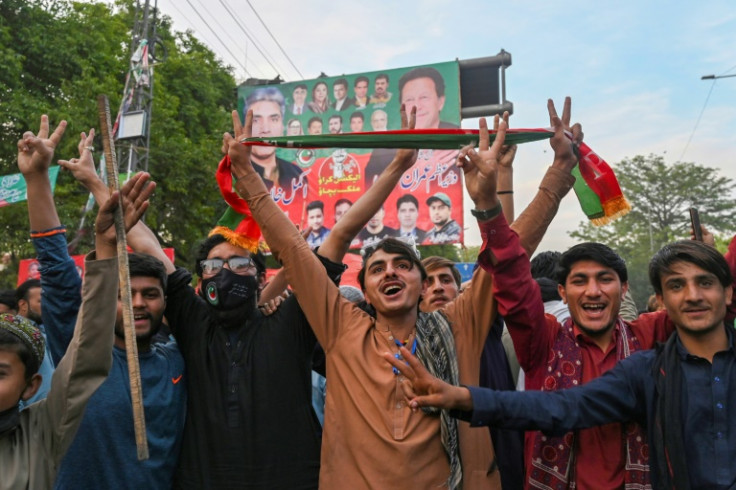 A state-imposed social media blackout to quell massive protests around the arrest of Pakistan's former prime minister Imran Khan has instead fuelled momentum for him, analysts say.
Moments after Khan was detained by a swarm of paramilitary Rangers on Tuesday, the interior ministry restricted nationwide access to Twitter, Facebook and YouTube.
Mobile data coverage -- used by political activists to organise protests on messenger apps such as WhatsApp, but with far larger effects on the wider populace -- was also cut.
But Khan's supporters quickly found workarounds, leaving social media awash with calls for protest and shaky handheld clips of thousands of demonstrators clashing with police.
The move was a "crass miscalculation" by authorities, according to Shahzad Ahmad, director of digital rights organisation Bytes for All. "It's only going to work against them."
Leading his Pakistan Tehreek-e-Insaf (PTI) party in opposition, Khan remains staggeringly popular and has crafted a campaign accusing the parties and army of colluding to keep him out of power, lock him up and even assassinate him.
Blocking social media only fuels the PTI's argument, said digital rights activist Usama Khilji.
"It's adding to their popularity because it's being seen as a move to curtail basic rights of citizens."
On Thursday, the Supreme Court declared Khan's arrest invalid, but the political turmoil has continued, and the internet restrictions remain in place.
Ahmad said the authorities who ordered the ban are "dinosaurs" who "do not have an idea how rapidly things are changing".
"They think in the mindset of absolute power," he said.
But internet and social media use has exploded in Pakistan in recent years, fuelled by the widespread availability of cheap smartphones.
Mobile broadband subscribers jumped from 56 million in 2018 to 116 million in 2022 -- around half of the country -- according to the telecom regulator.
Internet censorship has been common in recent decades, even under Khan's government.
But a young, tech-savvy citizenry has adapted quickly, using Virtual Private Networks (VPNs) to disguise their locations and skirt restrictions, Ahmad said.
Despite the ban, Twitter "was still very active in the country because people had their VPNs ready," he added.
The mobile data outage, however, cannot be circumvented in that way.
In Peshawar, PTI supporter Ikram Khan told AFP that party activists were expecting "a complete (internet) shutdown", so they hurriedly transferred mobile phone clips to computers equipped with wired internet connections and VPNs.
There was a delay in uploading the videos to Instagram and Twitter, and streaming service Facebook Live could not be used, but "we still did our job well", the 31-year-old told AFP.
"We know how to handle the situation."
The internet shutdown has triggered international condemnation.
Amnesty International Pakistan campaigner Rimmel Mohydin told AFP it was "a clear human rights violation".
It can "facilitate further violations of human rights, including impeding the documentation of unlawful use of force," she said.
Such remarks give credence to PTI claims they are being silenced, according to analyst Hasan Askari.
"The international concern definitely goes in their favour," he said.
Khan came to power in 2018 marketing himself as a political outsider, riding a pioneering wave of social media enthusiasm to challenge the country's two main dynastic parties, who between them have ruled Pakistan for decades.
Last April, after having lost the key support of Pakistan's powerful military -- which has itself ruled the country directly for more than three decades -- he was ousted in a no-confidence vote.
The ensuing political chaos has exacerbated an economic downturn that has seen decades-high inflation, the rupee tumbling to a record low Thursday, and deadlocked bailout negotiations with the International Monetary Fund.
The latest internet outage has added to those woes, costing Pakistan as much as $53 million a day according to global internet monitor NetBlocks, with mobile data coverage powering economic transactions, including credit and debit card point-of-sale terminals.
A shaky coalition government now faces the prospect of an electorate galvanised by simultaneous political and economic crises ahead of elections due no later than October.
The blackout "is quite disproportionate" said Khilji. "It does show a panic where the state is sort of caught off guard and it seems like they didn't really plan this well.
"The biggest issue is that people are already frustrated with the economic situation and this just adds on top of that," he said.
"It's giving more of a reason for citizens to be unhappy with the current government."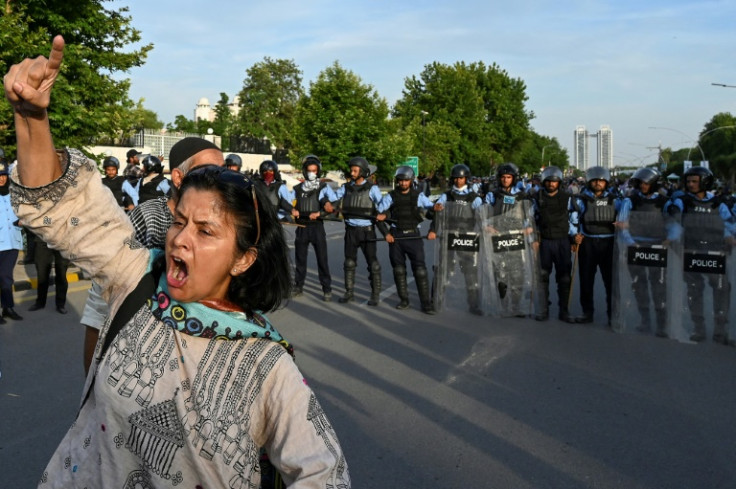 © Copyright AFP 2023. All rights reserved.