Russia Marks Victory Day Under Shadow Of Ukraine Setbacks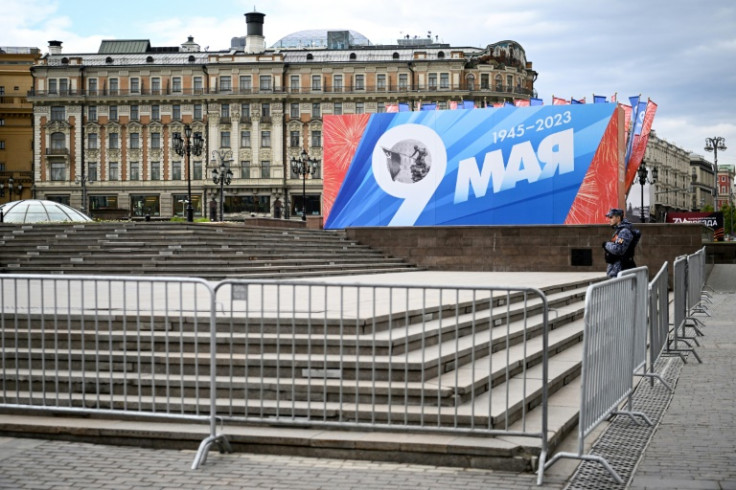 President Vladimir Putin is set to preside Tuesday over Victory Day celebrations overshadowed by Russia's battlefield failures in Ukraine, confrontation with the West and fear of new attacks at home.
But in a major coup for the Kremlin, at least six post-Soviet leaders including the prime minister of Armenia and the president of Kazakhstan are expected to attend the military parade that fetes the Soviet victory over Nazi Germany in 1945.
Putin, who has become the target of an International Criminal Court arrest warrant, is expected to address thousands of troops standing at attention in Moscow's Red Square amid ramped-up security.
However, after 14 months of fighting in Ukraine, Russia has little to show for its military campaign, with troops failing to take control of the eastern town of Bakhmut, its military leadership riven by conflict and Kyiv preparing to go on the offensive.
Political analyst Arkady Dubnov said that "for the first time in many years" Putin will be surrounded at a Victory Day parade by a number of post-Soviet leaders.
"Despite the serious weakening of its global positions after February 24, 2022, Russia remains to a certain extent the metropolis of a former empire whose actions have to be taken into account," Dubnov said.
Kremlin spokesman Dmitry Peskov said that "all necessary measures" were being taken to ensure the safety of the leaders.
In the run-up to the festivities, Russia has witnessed numerous incidents, including explosions derailing trains, fires, a drone attack on the Kremlin and a bombing attack that wounded a fiercely pro-Kremlin writer, Zakhar Prilepin.
More than two dozen cities and towns -- near the Ukraine border, but also in more distant Russian regions -- have cancelled plans to stage their own military parades over security concerns.
The Kremlin has, however, said that the Red Square parade, which is essential to Putin's legitimacy, will take place.
Since coming to power in 2000, Putin has promoted a patriotic cult around the 1945 Soviet victory over the Nazis, used to stoke patriotism and boost his standing as the heir of Soviet power.
The Kremlin has also used the memory of the Soviet war effort to justify its offensive in Ukraine, claiming it is fighting "fascists" supported by the West.
Authorities have scrapped plans to hold so-called "Immortal Regiment" marches that see people carry photos of veterans or family members who died in World War II.
While officials said the events would not take place due to security concerns, Kremlin critics say many Russians could have brought photos of those who died fighting in Ukraine, highlighting the scale of Moscow's losses.
Ahead of the parade, Yevgeny Prigozhin, chief of the mercenary group Wagner, issued a series of blistering, profanity-laced videos, blaming Defence Minister Sergei Shoigu and Chief of General Staff Valery Gerasimov for withholding ammunition amid talk of infighting and rivalries.
The Institute for the Study of War has pointed to "chain of command problems" for the Russian army in Ukraine that cast doubt on Moscow's ability to "coordinate a coherent theatre-wide defensive campaign".
By contrast, Ukraine commemorated the end of World War II together with Europe on Monday, with President Volodymyr Zelensky vowing that Russian forces would be defeated just as Nazi Germany was beaten in 1945.
The Ukrainian leader said the Kremlin was responsible for "aggression and annexation, occupation and deportation", as well as "mass murder and torture".
Zelensky said he had submitted a bill to parliament to formally commemorate World War II in Ukraine on May 8. For years the anniversary was marked on May 9, as it was in Russia and other ex-Soviet countries.
Ukraine will also mark a separate Europe Day on May 9, which promotes peace and unity on the continent, he said.
European Commission head Ursula von der Leyen is expected to visit Kyiv for talks with Zelensky on Tuesday.
© Copyright AFP 2023. All rights reserved.