Sudan Grandmother's Death Shows Struggle To Help Those Stranded In War
As she tried to save her ailing grandparents stuck amid fighting in central Khartoum, Azhaar Sholgami put in calls from New York to Sudan's two warring factions, aid workers, and embassies near her grandparents' home, but her efforts were in vain.
Sholgami's grandmother died alone, her body still lying unburied at the family home. Her grandfather was shot three times while out seeking supplies and remains stranded with his wounds in Khartoum.
Her story echoes those of other desperate members of Sudan's diaspora and those outside the capital struggling to evacuate loved ones trapped under bombardment with little access to food or water as the army and paramilitary Rapid Support Forces (RSF) battle in Khartoum.
"The process has been exhausting," said Sholgami, a student living in New York, as she detailed the family's increasingly frantic efforts to help the elderly couple, Alaweya Reshwan and Abdullah Sholgami, who were married for 60 years.
"My grandmother died alone and that breaks my heart because she'd always tell me that she's scared of being alone," she said.
Much of her anger and frustration is directed at the British embassy and what she sees as its reluctance to help her grandfather, a British citizen, because he also holds Sudanese nationality.
"The British embassy is four steps from my grandparents' house... My grandfather is also a British citizen. Every time we called or filled in a form, we would get asked if he had dual citizenship. How does that make him any less of a priority?" she said.
A British government spokesperson said Britain had carried out the longest and largest evacuation of any Western country from Sudan, and that its evacuation was open to British nationals and eligible family members.
A week into the conflict Britain and other Western countries began evacuating diplomats and other citizens. Sholgami's grandparents were not included. Living in a business district with no neighbours nearby and unable to charge their phones because the power was cut, they were alone.
RSF fighters took over their house - as Khartoum residents say they have done to homes across the city, though the group denies this.
After 10 days her grandfather drove out for supplies but was injured - shot in the hand, the chest and the lower back. An RSF fighter took him to hospital, leaving his wife alone at home.
The family did not learn he had been shot until days later and had to phone around Khartoum's few remaining hospitals to find out he was still alive. Sholgami intensified her efforts with the embassy.
"We wanted to see if they could just send them food or water. We tried at least 30 times to get them evacuated, but nothing worked," she said.
Eventually it was a Turkish diplomat that notified Azhaar of her grandmother's death, contacting her via Twitter and asking for her number.
"I thought he was going to tell me that they were about to evacuate my grandmother, but instead I found out she had passed away," she said.
Meanwhile the family are trying to arrange travel documents for her grandfather to come to Cairo as his passport remains in his office and impossible to reach.
"That she died of starvation, in the heat with no electricity... to this moment we are still unable to reach her body," she said.
"We're begging the RSF, begging anyone to just at least bury her in her own backyard."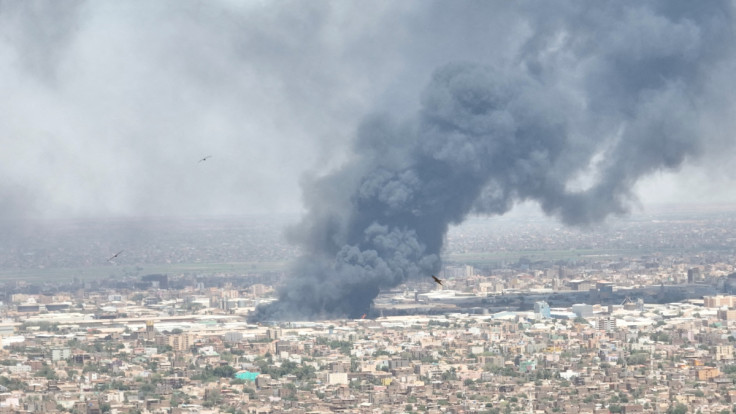 © Copyright Thomson Reuters 2023. All rights reserved.