Turkey Election Results Show Erdogan Dominating In Quake-hit Region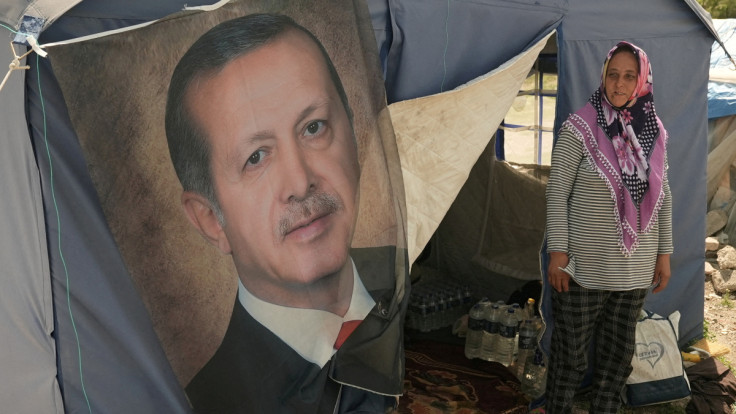 Turkish President Tayyip Erdogan's AK Party came out on top in Sunday's elections in 10 of the 11 provinces hit by February's earthquakes, with analysts saying his vow to rebuild devastated cities had reassured voters in what are mostly AKP strongholds.
The ruling party's strong showing, defying initial expectations in February that the quakes would hurt its support, was also driven by doubts about the opposition's ability to meet voters' expectations.
Nationwide, the Islamist-rooted AKP won a new parliamentary majority with its alliance partners, while Erdogan, 69, led comfortably in the presidential vote ahead of a runoff with his main rival on May 28.
The powerful earthquakes on Feb. 6 killed more than 50,000 people and left millions homeless in Turkey, causing destruction across 11 provinces from Adana near the Mediterranean coast to Diyarbakir in the mainly Kurdish southeast.
Despite the huge toll of deaths and injuries and mass migration afterwards, voter turnout was still very high in the region, at between 85-89% in most of the 11 provinces and above 80% in the others. The nationwide average was 88.9%.
Many Turks who fled the region returned to vote.
Kurdish voters in the region came out strongly in support of Erdogan's main rival, Kemal Kilicdaroglu, in the presidential race, but the president was still ahead in voting in eight of the affected provinces.
Kilicdaroglu, 74, was clearly ahead in two provinces and in the worst-hit province of Hatay, they each got 48% support, with the opposition leader marginally ahead.
ANGER
Critics and earthquake survivors had expressed anger over a slow initial quake response by Erdogan's government and lax enforcement of building rules - failures they said cost lives.
But dozens of people Reuters spoke to soon after the quake were thankful for the aid of the government and security forces, while also complaining that they had arrived late. Interviews since then provided little evidence that the issue would change how people voted.
Ibrahim Kadir Demir, who lost his daughter and grandchildren in the earthquake, said he was happy with government services, adding: "I wish our president had won outright (in the first round)."
A supporter of the opposition, Aslihan Cengiz, said she had expected a bigger backlash against the AKP in her native province of Hatay - the worst affected by the quakes - but added that its more pious electoral base probably helped it.
"(AKP voters) say the earthquake was an act of God," said Cengiz, who also said AKP-voting districts of Hatay had seen less destruction than areas that tended to back the opposition.
Erdogan's AKP has prioritised construction during its 20 years in power and this has helped to drive economic growth.
Pollster Mehmet Ali Kulat said the opposition alliance had failed to win over enough voters and they had ultimately put their faith in the government to improve their plight.
"Earthquake survivors had seriously criticised the government response in polls and they said they would not vote for them. But these people were also looking for an answer to the question of who 'will rebuild my house, who will rebuild my workplace?'" Kulat said.
"They see that it is Erdogan who can do this. This is one of the most important factors," he added.
© Copyright Thomson Reuters 2023. All rights reserved.