UAE Denounces Al-Aqsa Mosque Storming By Israeli Forces, Warns Against 'Provocative Violations'
KEY POINTS
The UAE urged Israeli authorities to "halt escalation and avoid exacerbating tension and instability" in the Middle East.
The country reiterated its condemnation of illegal practices that threaten peace
The Gulf Cooperation Council called the attack as "flagrant violation of international law"
The UAE has strongly denounced the recent storming of the al-Aqsa Mosque in Jerusalem by the Israeli police, and called for a need to protect the sacred site.
In a statement, the country's Minister of Foreign Affairs and International Cooperation urged worshipers not to "barricade" themselves inside places of worship with weapons and explosives.
The UAE's ministry reiterated the government's commitment to maintaining peace in the region, and warned against "provocative violations" and emphasized the importance of acknowledging Jordan's position as the caretaker of holy sites, according to the international law, stating that no one should "compromise the authority of the Jerusalem endowment that manages the affairs of al-Aqsa Mosque," Gulf News reported.
The ministry further affirmed the UAE's condemnation of practices that undermine resolutions on international legitimacy and tend to aggravate the situation in the region. In line with this, it urged Israeli authorities to "halt escalation and avoid exacerbating tension and instability" in the Middle East, stressing the need to uphold all regional and international efforts to expedite the peace process in the region.
The UAE also called for an end to illegal practices that thwart efforts aimed at reaching a two-state resolution and establishing "an independent Palestinian state on the 1967 borders with East Jerusalem as its capital."
Following the attack, Jassem Mohamed al-Budaiwi, Secretary-General of the Gulf Cooperation Council, also issued a statement condemning the storming of the al-Aqsa Mosque.
"The continued storming by the occupation forces of al-Aqsa Mosque, violating its sanctities and attacking its worshippers are considered a serious escalation and it contradicts the international principles and norms in respect of religious sanctities as well as a flagrant violation of international law and international legitimacy resolutions," he said.
The storming of al-Aqsa took place early Wednesday morning, while hundreds of worshipers were inside the mosque for their Ramadan prayers. Clashes had erupted after the Israeli police stormed the mosque to dislodge "agitators," who were allegedly inside with fireworks, sticks and stone.
The Palestinian Islamist movement Hamas denounced Wednesday's move by the Israeli police as an "unprecedented crime."
Seven Palestinians were injured by rubber-tipped bullets during the attack. The Palestinian Red Crescent also reported that the Israeli forces who stormed the mosque tried to stop the medics from entering the holy site.
The mosque, which is in the Israeli-annexed east Jerusalem, is built on top of what the Jews call the Temple Mount--the holiest site in Judaism. It has seen several clashes previously, especially during the month of Ramadan.
The latest incident came as Jews celebrated Passover from Wednesday and Muslims observe Ramadan.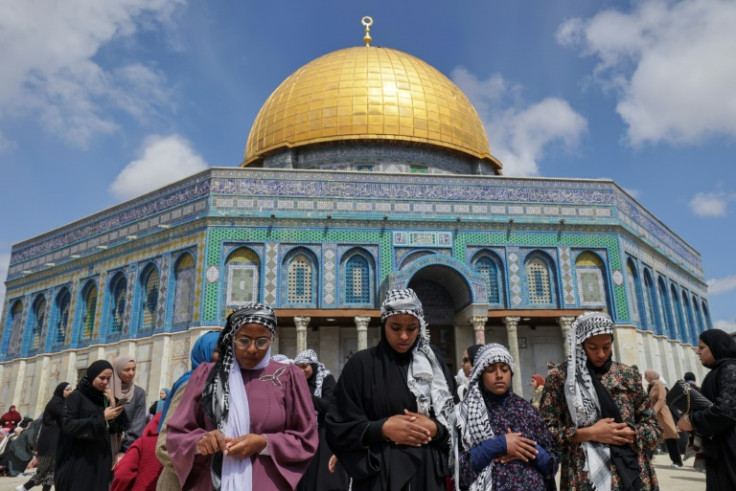 © Copyright 2023 IBTimes AE. All rights reserved.