Ukraine Says Black Sea Grain Deal Risks Being Shut Down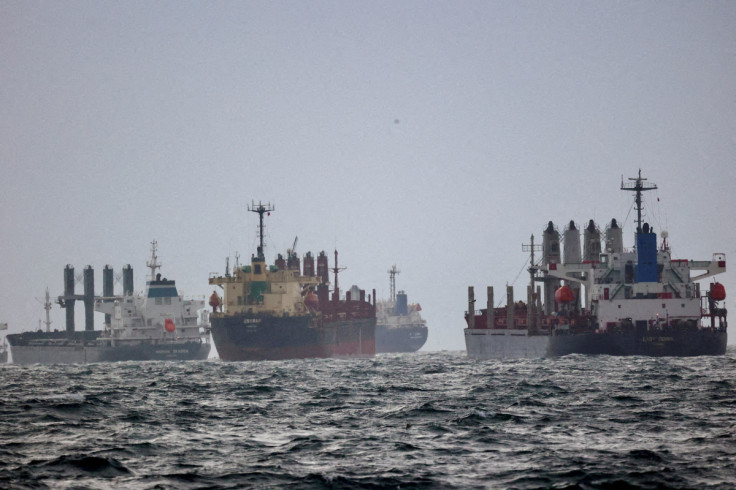 Kyiv said on Monday a U.N.-brokered initiative allowing the safe Black Sea export of Ukrainian grain was in danger of "shutdown" after Russia blocked inspections of participating ships in Turkish waters.
Ukrainian Black Sea ports were blockaded after Russia's invasion last year, but access to three of them was cleared last July under a deal between Moscow and Kyiv that was brokered by the United Nations and Turkey.
The agreement - intended to help ease a global food crisis - was extended last month, but Ukraine said the number of cargo ships passing through the Bosporus carrying Ukrainian agricultural products was critically low.
"For the second time in 9 months of operation of the Grain Initiative, an inspection plan (for participating vessels) has not been drawn up, and not a single vessel has been inspected," Ukraine's restoration ministry said on Facebook under the headline "Grain initiative under threat of shutdown."
Highlighting the bottleneck in the Bosporus, Bridget Brink, the U.S. ambassador to Ukraine, said on Twitter over 50 ships were awaiting approval to go to Ukrainian ports "to load grain that will feed those who need it."
Russia did not respond to Brink's or the ministry's comments, but the Kremlin said prospects for a renewal of the grain deal were "not so bright".
Moscow says a separate deal, under which the U.N. agreed to help Russia with its food and fertilizer exports, is not working.
Ukraine's restoration ministry said Russian representatives in a Joint Coordination Center were operating an "unacceptable" plan for inspecting vessels which contradicted the terms of the initiative.
In the last three days, Russian inspectors had refused to register three vessels without any explanation, it said.
"Ukraine categorically rejects Russia's latest demands and opposes its interference in the operation of Ukrainian ports," the ministry said.
© Copyright Thomson Reuters 2023. All rights reserved.