Ukraine Sceptical Over Efforts To End War With Russia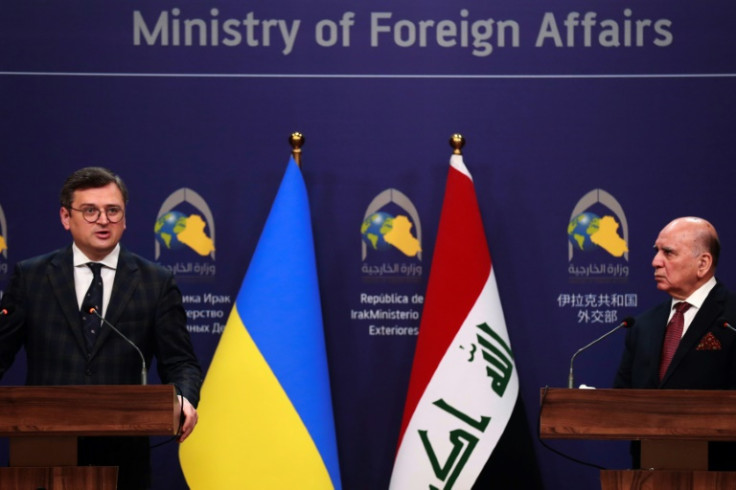 Ukraine's foreign minister cast doubts Monday on efforts to bring about peace in his country's war with Russia, saying during a visit to Iraq that Moscow "wants war".
The visit by Dmytro Kuleba is the first trip to Baghdad by a Ukrainian foreign minister in 11 years.
It comes after Russian Foreign Minister Sergei Lavrov visited the Iraqi capital in February, a year after Russia invaded its neighbour.
At a joint press conference, Iraqi Foreign Minister Fuad Hussein said Baghdad was ready to "help the two parties to first reach a ceasefire, then to start discussions".
However, Kuleba appeared doubtful that peace efforts would succeed.
"Russia is seeking war. And this is the biggest impediment, the biggest hurdle on the way to peace," he told reporters.
"You don't behave like this when you want peace. So whatever Russian officials are saying... today Russia wants war," Kuleba said.
"We need Russia to agree with a very simple fact: it has to stop the war and withdraw from the territory of Ukraine. This will give space to diplomacy."
Offers to mediate in the Ukraine-Russia conflict have multiplied in recent weeks.
On Sunday in Abu Dhabi, Brazilian President Luiz Inacio Lula da Silva said he had discussed joint mediation with China and the United Arab Emirates, and accused the United States and Europe of prolonging the conflict.
On Saturday, French President Emmanuel Macron's office said in a statement he had "discussed the next steps in the organisation of a peace summit" with Ukraine's President Volodymyr Zelensky.
In 2021 and 2022 Iraq mediated several rounds of talks between officials from regional rivals Saudi Arabia and Iran.
Last month, Riyadh and Tehran announced in China that they would be resuming diplomatic ties severed in 2016.
Hussein said on Monday of Ukraine and Russia: "When the two parties are convinced that dialogue is necessary, Baghdad will be at the service of both."
Iraq maintains good economic ties with both Kiev and Moscow, and has adopted a neutral stance since Russia invaded Ukraine in February 2022.
While it has secured support among the West, Ukraine is on a mission to bolster diplomatic support among emerging countries, especially in the Middle East and Asia.
© Copyright AFP 2023. All rights reserved.