Ukrainians Said To Pull Back In Bakhmut As Moscow Launches New Push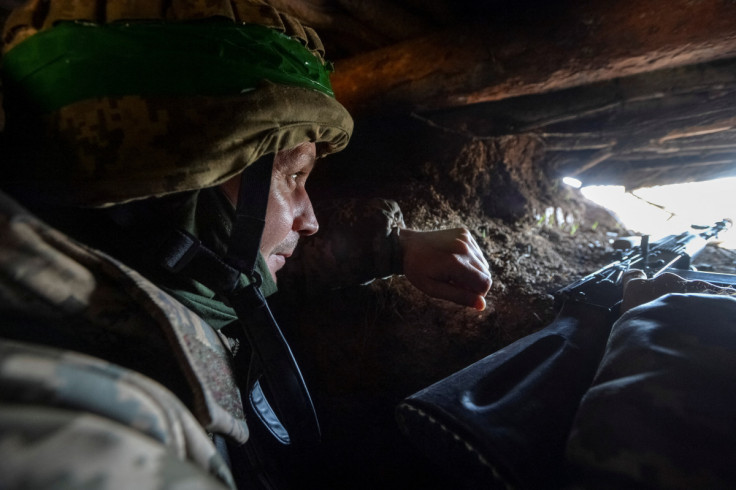 Ukrainian troops have been forced to withdraw from some parts of Bakhmut in the face of a renewed Russian assault on the ruined battlefield city, Britain said on Friday, with Moscow pressing to achieve a victory before Ukraine's expected counteroffensive.
Ukrainian officials say Russia has been drawing down troops from other areas on the front for a major push on Bakhmut, which Moscow has been trying to capture for nine months to reenergize the all-out invasion it launched more than a year ago.
Western countries have in the past pointed to acrimony between the Russian defence ministry (MoD) and the country's main mercenary force Wagner as a major Russian weakness.
"Russia has re-energised its assault on the Donetsk Oblast town of Bakhmut as forces of the Russian MoD and Wagner Group have improved co-operation," Britain's military said in a daily briefing note.
"Ukrainian forces face significant resupply issues but have made orderly withdrawals from the positions they have been forced to concede," it said.
Near Bakhmut, soldiers from a Ukrainian artillery unit were loading shells into a Soviet-era howitzer and firing towards the front line, where they said Russia had massed its foot soldiers.
"Our target in that direction is mostly infantry. There is a big concentration of the Russian Federation's 'human factor'," said Dmytro, the artillery unit's 44-year-old commander. The gun thundered as the unit blasted three shells, the first to find range, the second to adjust aim.
"The third one is finishing off. Most likely, I hope, the infantry they spotted was eliminated."
MAIN TARGET
Bakhmut, which held around 70,000 people before the war, has been Russia's main target in a massive winter offensive that has so far yielded scant gains despite infantry ground combat of an intensity unseen in Europe since World War Two.
Ukrainian Deputy Defence Minister Hanna Maliar said Russian commanders had redirected troops to Bakhmut from other areas.
"The enemy is using its most professional units there and resorting to a significant amount of artillery and aviation," she wrote on the Telegram messaging app.
"Every day, the enemy carries out in Bakhmut from 40 to 50 storming operations and 500 shelling episodes."
The British update said the Ukrainians still held western districts of the town but had been subjected to particularly intense Russian artillery fire over the previous 48 hours.
Wagner mercenary units were now focusing on advancing in the centre of Bakhmut, while Russian paratroopers were relieving them in attacks on the city's flanks, it said.
The Institute for the Study of War think tank said geolocated footage indicated that Russian forces had advanced further west into central Bakhmut the previous day and made "marginal advances" in the south and southwest of the city.
Capturing the city would be Russia's first substantial victory in eight months. Moscow says it would open a route to capturing more territory in Ukraine's eastern Donbas region, a major war aim.
After major Ukrainian breakthroughs in the second half of 2022, the front lines have barely budged over the last five months, despite a massive Russian offensive.
'READYING OUR BOYS'
Moscow has made use of hundreds of thousands of freshly conscripted reservists and thousands of convicts recruited as mercenaries from jails. Kyiv, meanwhile, has mostly stuck to defending its lines while waiting for the arrival of new Western arms for an expected counter-offensive in coming months.
"We are readying our boys," President Volodymyr Zelenskiy said in a video address late on Thursday. "We look forward to the delivery of weapons promised by our partners. We are bringing victory closer as much as possible."
Ukraine had appeared likely to abandon Bakhmut at the end of February, but announced in March it would fight on there, saying it was worth defending the largely ruined city because of the losses it was inflicting on Russians trying to assault it.
Both sides say they are inflicting huge casualties. U.S. intelligence documents leaked last week said Russia had lost 35,500-43,000 soldiers killed, while Ukraine had lost 15,500-17,500, between a third and half as many.
Thousands, perhaps tens of thousands, of Ukrainian civilians have also been killed across the country since Russia launched its invasion in February last year. Moscow claims the war is necessary to protect Russia from a security threat. Kyiv and the West call it an unprovoked war to conquer an independent country.
(Writing by Peter Graff; editing by Philippa Fletcher)
© Copyright Thomson Reuters 2023. All rights reserved.