At UN, Russia's Lavrov Warns World At 'Dangerous Threshold'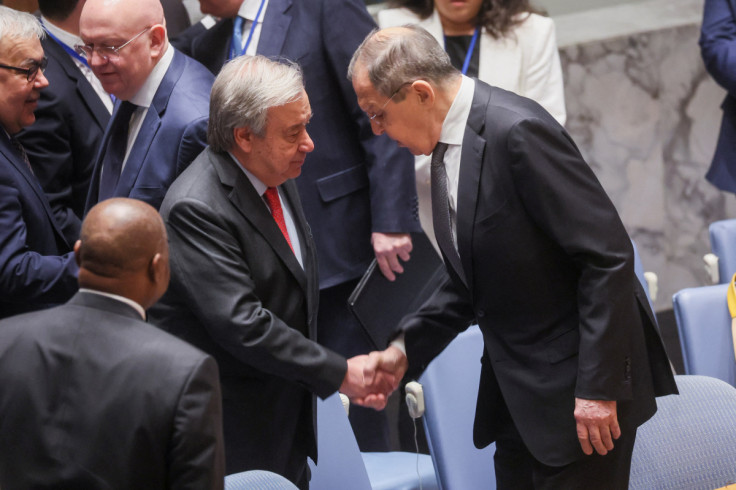 U.N. Secretary-General Antonio Guterres said on Monday that the risk of conflict between global powers was at an "historic high" and Russian Foreign Minister Sergei Lavrov warned the world was at a threshold "possibly even more dangerous" than during the Cold War.
Guterres, seated next to Lavrov in the U.N. Security Council, criticized Russia's invasion of Ukraine for causing massive suffering and devastation in the country and fueling global economic dislocation caused by the coronavirus pandemic.
"Tensions between major powers are at an historic high. So are the risks of conflict, through misadventure or miscalculation," Guterres told the meeting of the 15-member body on multilateralism and the founding U.N. Charter.
Lavrov chaired the council meeting because Russia holds the council's monthly rotating presidency for April.
"As during the Cold War, we have reached the dangerous, possibly even more dangerous, threshold," Lavrov said. "The situation is worsened with the loss of trust in multilateralism."
"Let's call a spade a spade. Nobody allowed the Western minority to speak on behalf of all of humankind," Lavrov said.
A string of Security Council members, including the United States, France and Britain, condemned Russia for its war on Ukraine.
"Our hypocritical convenor today, Russia, invaded its neighbor Ukraine and struck at the heart of the U.N. Charter," U.S. Ambassador to the United Nations, Linda Thomas-Greenfield, told the council.
"This illegal, unprovoked, and unnecessary war runs directly counter to our most sacred principle: that a war of aggression and territorial conquest is never, ever acceptable," she said.
Thomas-Greenfield also accused Russia of violating international law by wrongfully detaining Americans, calling for the release of Wall Street Journal reporter Evan Gershkovich and ex-Marine Paul Whelan. Whelan's sister, Elizabeth, was in the Security Council chamber on Monday.
As the United Nations seeks to save an agreement that allows the safe Black Sea export of Ukraine's grain that could expire on May 18, Guterres also urged the continued implementation of that deal and a related pact in which the United Nations pledged to help facilitate Russia's own grain and fertilizer exports.
"They clearly demonstrate that such cooperation is essential to creating greater security and prosperity for all," he said.
© Copyright Thomson Reuters 2023. All rights reserved.