UN Ship Due To Prevent Yemen Oil Spill Departs For Red Sea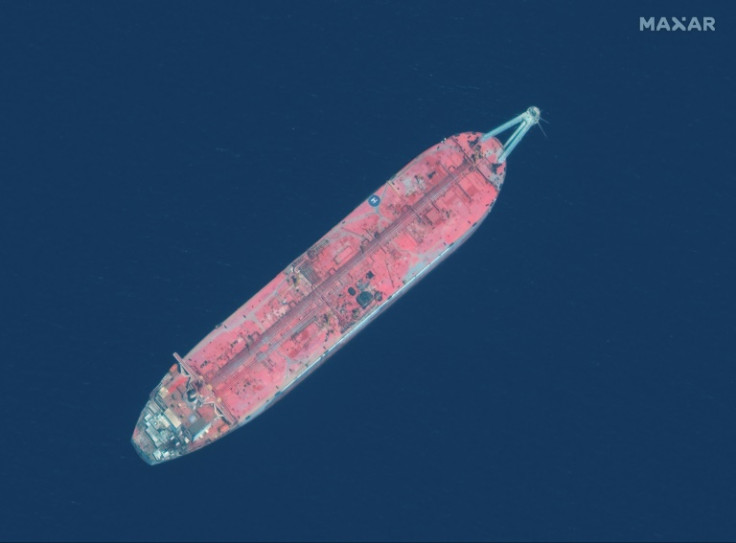 A supertanker bought by the United Nations to remove oil from a ship abandoned off war-ravaged Yemen's coast departed China on Thursday, the UN announced, calling it a "significant" step in efforts to prevent a major spill.
The UN Development Program (UNDP) had in March purchased the crude carrier Nautica to remove more than a million barrels of oil from the beleaguered FSO Safer.
It was an unusual move for the agency, and was hailed as a breakthrough in efforts to avert a potentially catastrophic oil spill.
The 47-year-old FSO Safer has not been serviced since Yemen's devastating civil war broke out in 2015 and was left abandoned off the rebel-held port of Hodeida, a critical gateway for shipments into the country heavily dependent on emergency foreign aid.
After undergoing routine maintenance in drydock in Zhoushan, China, the Nautica left port on Wednesday, a UNDP statement said.
The ship, which was purchased from major tanker company Euronav, is expected to reach its destination in early May and will make a stop en route for further technical modifications, a UN spokesman said.
"The departure of the Nautica, and its onward journey to the Red Sea, is a significant next step in the complex operation to take on the oil from the Safer," said UNDP chief Achim Steiner, according to the statement.
He called for urgent contributions to fund the operation, the $129 million budget for which still has a gap of $34 million as of April 4. The UN has even launched a crowdfunding page, aiming to raise $500,000.
"We are in a race against time and I urge leaders in government, CEOs of corporations and any individual in a position to contribute to step forward and support us in keeping this operation, that is fast reaching a critical stage, on track," Steiner said.
The statement cited "spiraling costs" for VLCCs -- very large crude carriers, like the Nautica -- in a market impacted by the war in Ukraine.
"We have the best available technical expertise and political support from all sides," said David Gressly, the UN Resident and Humanitarian Coordinator for Yemen.
"We just need the final piece of funding this month to ensure success" and prevent "a catastrophe," he added.
The Safer's 1.1 million barrels of oil is four times as much as that spilled in the 1989 Exxon Valdez disaster, one of the world's worst ecological catastrophes, according to the UN.
An ecological disaster could also clog the Bab al-Mandab strait between Africa and the Arabian peninsula, taking a major toll on the global economy by holding up the Suez Canal.
© Copyright AFP 2023. All rights reserved.