'Unbridled Grief': Ukrainian Woman Buries Toddler Son, Husband After Strike
Rescuers dug frantically for Anastasia Komarista's two-year-old son in the rubble of their east Ukraine housing block for hours after Russian strikes last week. Then they dug for her husband.
She buried them both again on Wednesday, days after the barrage that killed her family, pulverised her home and forced her to confront the toll of Russia's brutal invasion.
Outside her town of Sloviansk, in a rainy cemetery sweeping down to a river, Komarista wailed over their coffins, begging them to pardon her for surviving.
"Forgive me! Forgive me! I don't want to be here. I want to be lying next to you," she screamed, dazed and pale in black clothing, propped up by stern and stoic relatives.
"I prayed to God to save you!" she shouted, looking up to the sky, which echoed back the dull thuds of distant artillery.
The fatal Russian attack last Friday evening ripped through Komarista's apartment on the top floor of her Soviet-era building in a quiet residential area.
Sloviansk, a frontline town of around 110,000, is part of the industrial Donetsk region which Russian leader Vladimir Putin claims is part of Russia.
Komarista was at the gym nearby when the missiles struck. Her husband Sergei, 29, was looking after their son Maksym and his uncle had stopped by.
AFP journalists on the scene minutes after the attack heard a woman shrieking and saw rescue workers fling a charred stroller from the destroyed fourth floor while digging for survivors.
Concrete dust and shattered glass layered the street below and plumes of black smoke billowed from homes across the street struck by shrapnel.
Children's crayon drawings and ripped schoolbook pages mingled with chunks of concrete on the ground including around a playground in the courtyard.
The two-year-old was pulled from the rubble alive but died in the ambulance.
There were still Easter decorations hanging from the church in Sloviansk where around a hundred mourners holding candles gathered to bid farewell to Maksym and his father.
"Unbridled grief has befallen this family," the priest conducting the ceremony said.
"Not just this family, but the whole city. What words could bring any consolation in this situation?"
Maksym's coffin, decorated with blue and white silk, was so small it required only two men to carry.
Both caskets lay under a large mural picturing the famous Saint Basil's Cathedral in Moscow's Red Square.
The Orthodox cathedral in Sloviansk is still under the auspices of the Russian church -- an ongoing controversy of the war.
Sergei repaired phones and sold accessories, and he played in a local football team, according to an online death notice in which friends described him as "easy-going and empathetic".
"We hope that you are now with Pele and Maradona. There are no words to describe our grief, our loss," friends wrote in an open message.
S-300 missiles are designed to take down hostile air targets like enemy aircraft or missiles. Russia has large stockpiles, and each costs hundreds of thousands of dollars.
Russia fired eight towards Sloviansk in Friday's attack. The barrage killed 15 people and injured dozens more.
The Kremlin has repeatedly said its forces do not target residential areas and insists Kyiv is responsible for prolonging civilian suffering in Ukraine by refusing negotiations.
Apart from Maksym, Ukrainian prosecutors estimate that the Kremlin's invasion has led to the deaths of some 470 children. They say the number could be higher.
President Volodymyr Zelensky described the attack as "brutal" and said it was yet another example of how Russia "ruins and destroys all life".
Before bringing the coffins to the burial outside Sloviansk, the priest -- with incense hanging in the air -- asked the crying mourners clutching roses to believe in a better future.
"A time of peace will surely come. This sorrow will surely pass".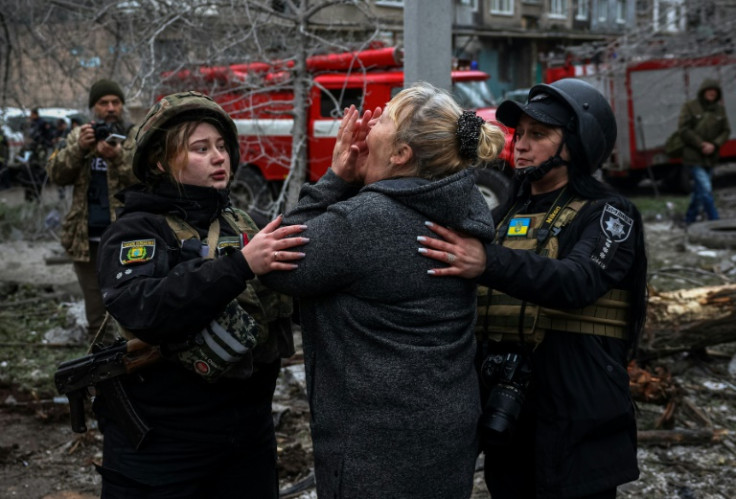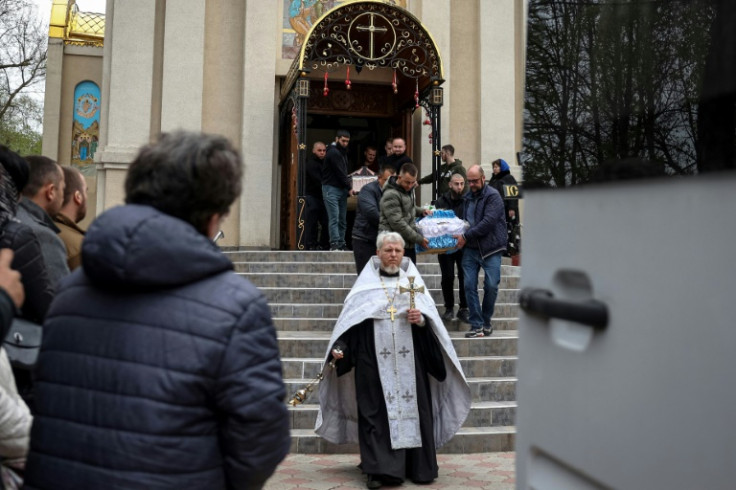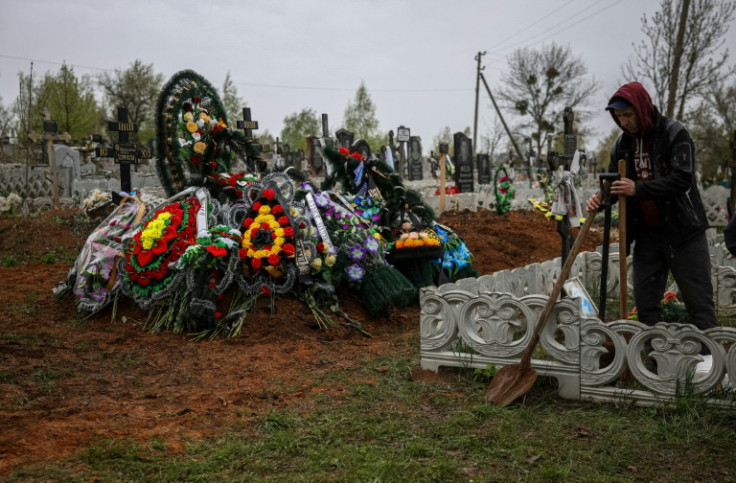 © Copyright AFP 2023. All rights reserved.