US Envoy Tells Lavrov At UN To Release US Journalist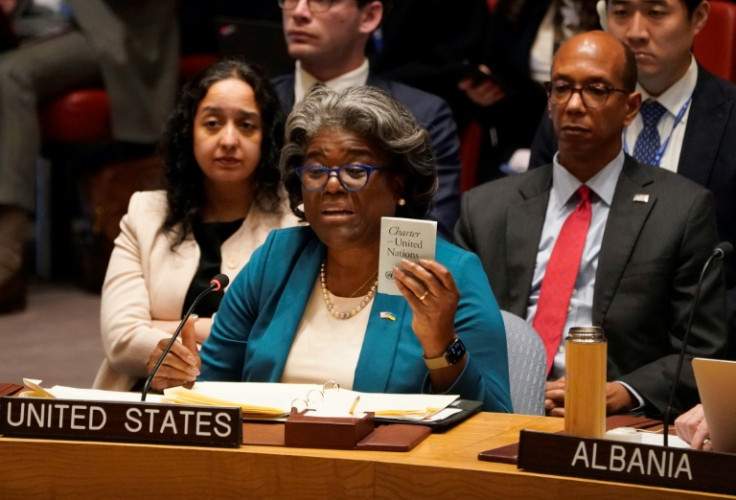 Washington's United Nations ambassador made a direct plea to Russian Foreign Minister Sergei Lavrov on Monday to release a detained US journalist and a former US Marine.
Linda Thomas-Greenfield's comments came as Lavrov chaired a UN Security Council meeting at the world body's headquarters in New York.
"I am calling on you, right now, to release Paul Whelan and Evan Gershkovich immediately, to let Paul and Evan come home. And to cease this barbaric practice once and for all," said Thomas-Greenfield.
She said the men were being used as "political bargaining chips" and "human pawns."
"Using people as pawns is a strategy of weakness. These are not the actions of a responsible country. And while Russia plays political games, real people suffer."
As Whelan's sister looked on from the gallery of the UN chamber, Thomas-Greenfield urged Lavrov to "look into her eyes and see her suffering."
"I want you to see what it's like to miss your brother for four years. To know he is locked up, in a Russian penal colony, simply because you want to use him for your own ends," said the US envoy.
Whelan was arrested in 2018 and handed a 16-year sentence on espionage charges that he denies.
Last month, Gershkovich was arrested in Russia and charged with espionage.
The reporter, his employer The Wall Street Journal, and US officials strongly denied the allegations.
Gershkovich, who has also worked for AFP, is the first foreign journalist arrested on spying allegations since the collapse of the Soviet Union.
© Copyright AFP 2023. All rights reserved.