World Leaders Emboldened Sudan's Warring Generals: Analysts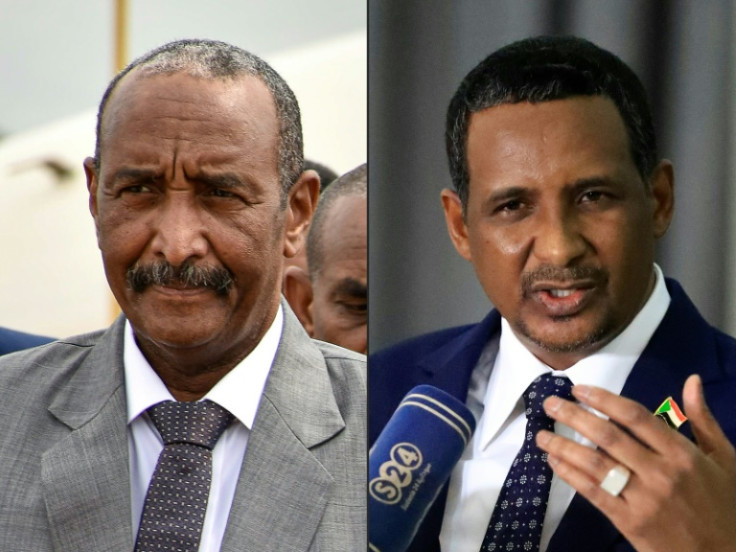 Two warring generals whose rivalry has plunged Sudan into bitter conflict were for years legitimised by an international community more focused on appeasement than on accountability, experts say.
"The international community has a lot to answer for here," Sudanese analyst Kholood Khair told AFP, as deadly fighting raged in the country for nearly a week.
"It was their poorly thought out political process which really ratcheted up tensions," said Khair, founder of the Confluence Advisory think tank.
Since the fall of dictator Omar al-Bashir in 2019, international mediators have sought to bring civilians and the military to the negotiating table.
But in the process, analysts believe, they gave too much credit to army chief Abdel Fattah al-Burhan and his deputy turned rival Mohamed Hamdan Daglo -- commonly called Hemeti -- who leads the powerful paramilitary Rapid Support Forces (RSF).
"There was a lot of handholding and appeasement of these generals throughout this political process, because the international community framed them as reformers," Khair said.
Once trusted to steer a transition to civilian rule, instead they staged a coup together in October 2021 derailing that very transition.
Their alliance disintegrated, and disagreement over integrating the RSF into the regular army -- a key condition in the latest internationally brokered agreement -- erupted Saturday into all-out war.
Jeffrey Feltman, former US special envoy to the Horn of Africa, said the fighting should be a moment of reckoning for Western powers.
"We reflexively appeased and accommodated the two warlords," he wrote in a Washington Post opinion piece a year and a half after unsuspectingly leaving Khartoum just hours before the generals' coup.
"We considered ourselves pragmatic. Hindsight suggests wishful thinking to be a more accurate description."
In dealing with military commanders accused of atrocities, the international community "avoided exacting consequences for repeated acts of impunity that might have otherwise forced a change in calculus", Feltman wrote.
When security forces attacked pro-democracy demonstrators in central Khartoum in June 2019, killing at least 128 people, witnesses said the bloodshed was led by the RSF -- which grew out of the Janjaweed militia, implicated in war crimes in Darfur.
Civilian leaders and pro-democracy protesters remained wary of the generals as they purported to lead the way to democratic rule in a country that has known only brief democratic interludes since independence in 1956.
But "the international community adopted what we told ourselves was the only realistic approach: dealing with the warlords ourselves", Feltman said.
Resistance committees -- local informal groups that emerged during the 2019 protests -- held near-weekly protests after the coup. Security forces responded with a crackdown that killed at least 125 protesters, pro-democracy medics said.
After the coup, the international community cut critical aid to what was already one of the world's poorest countries.
But experts say this put no pressure on the commanders, who had accrued considerable wealth through decades of international sanctions against Bashir's regime.
Now, as their forces are fighting, they remain deaf to international calls for a ceasefire.
Sudan's sizeable gold deposits, believed to be largely controlled by the RSF, have made Daglo rich.
Even as Washington slapped sanctions on Russian companies involved in mining for serving as a front in Sudan for Russian private military contractor Wagner, Daglo continued to be welcomed in world capitals.
"You have a long history of Hemeti being backed, in terms of finances and international recognition," a specialist on regional diplomacy told AFP, speaking on condition of anonymity.
Received in Moscow, Addis Ababa and Abu Dhabi, over the past few years Hemeti has progressively traded his desert fatigues for fitted suits, negotiating both political agreements and business deals.
"A lot of the aggressiveness of Hemeti today is attributable to the behaviour of the UAE," said the same specialist, pointing to how the Gulf country and its president Mohamed bin Zayed Al Nahyan -- who has himself received Daglo -- is "listened to in the EU, in Washington and in Israel".
Barely a year after seizing power in the coup, Burhan addressed the UN General Assembly, and renewed his commitment to "a civilian government that represents all Sudanese people".
In Sudan itself, negotiators and envoys spoke almost exclusively with the generals, "rarely engaging substantial proportions of the Sudanese public in the political process", according to analyst Khair, allowing the generals to ignore "accountability to the Sudanese people".
It was this that "led the generals to believe that they could have an all-out conflict in the middle of Sudan's capital", she said.
© Copyright AFP 2023. All rights reserved.