A Year On, Family And Friends Say No Justice For Slain Al Jazeera Journalist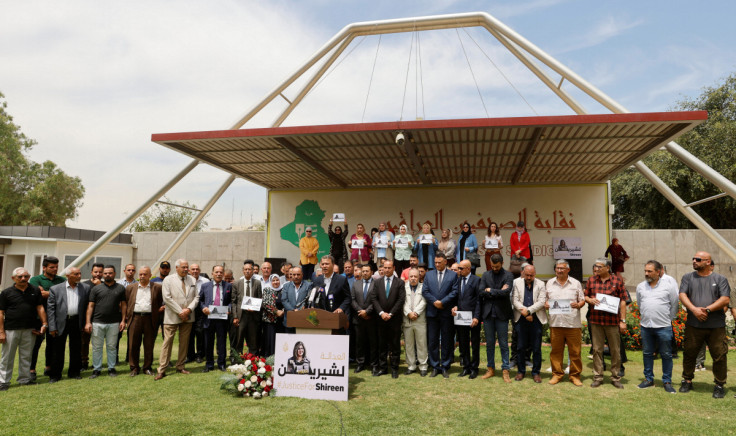 A year after Al Jazeera journalist Shireen Abu Akleh was shot while covering an Israeli army raid, family and friends say her killers are yet to be held responsible.
Abu Akleh, one of the most recognizable journalists covering Israeli-occupied territories, was shot dead on May 11, 2022 during an Israeli raid in the West Bank city of Jenin.
After changing its version of what happened several times, Israel's military said Abu Akleh, who was wearing a clearly marked protective press vest and helmet, was likely unintentionally shot by an Israeli soldier but could have also been hit by Palestinian fire.
Witnesses have said there were no Palestinian fighters firing in the area where Abu Akleh was standing, and her family and Palestinian officials believe Israeli forces killed her deliberately.
"Shireen's killers are free, they haven't been held accountable. Nothing was done to deter them from targeting journalists and killing them in the same way," said journalist Najwan Simri, who was a close friend to Abu Akleh.
A report by the Committee to Protect Journalists found that no one has been charged or held accountable for the death of at least 20 journalists killed by Israeli gunfire over the past two decades.
"It is part of a pattern of response that seems designed to evade responsibility," said Robert Mahoney, CPJ's director of special projects and one of the report's editors.
Israel insists that its soldiers do not deliberately target journalists and has refused to identify the soldier who probably shot Abu Akleh.
Naftali Bennett, who was Israel's prime minister when Abu Akleh was killed, said last week that soldiers should not be prosecuted when civilians are not killed deliberately.
"If there's a battle going on and there's collateral damage that is not deliberate, then no. Otherwise, what you would do is shackle all the hands of fighters," he said.
Abu Akleh's death stirred international outrage, especially after Israeli police beat mourners at her funeral in Jerusalem. She was one of 191 Palestinians killed by Israeli forces and Jewish settlers in 2022, according to a UN tally.
Walid Omary, Al Jazeera's bureau chief in Jerusalem, said the network submitted a formal request to the International Criminal Court to investigate the shooting, adding that the obstacles to prosecuting those responsible were "political".
On Sunday, dozens gathered in a modest Roman Catholic church to mark the first anniversary of her killing. Some people wore pins of the now-famous photo of Abu Akleh with the skyline of Jerusalem, where she was from.
"She always lit up the room," said her niece Lina Abu Akleh.
© Copyright Thomson Reuters 2023. All rights reserved.