Young Gaza Man Mourns Fiancee Killed In Israeli Strikes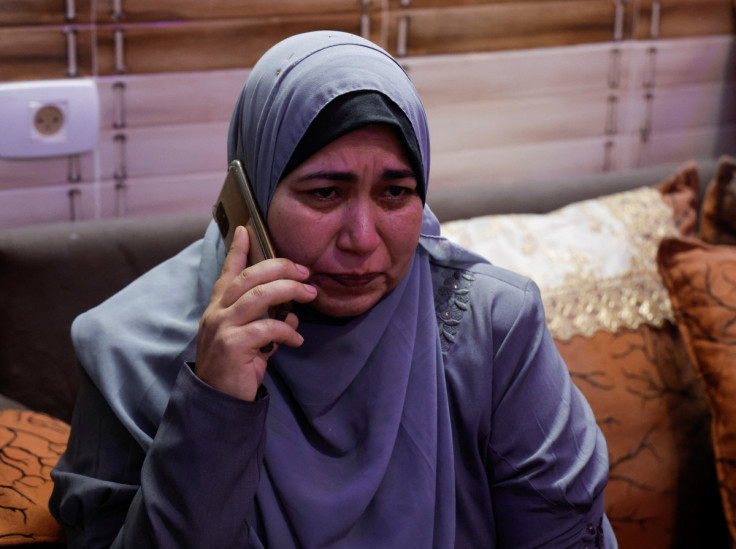 A young Gaza man who saw his fiancee for the last time only minutes before she was killed in an Israeli air strike on Tuesday said they spent their final moments discussing how they would pose together for their engagement photo.
"I left her 15 minutes before she was martyred," 19 year-old Mohammad Saed told Reuters, in the wrecked room of his fiancee's family's house where they had met a day earlier.
"We promised one another, we would never leave one another's side except if death separates us. Death did," said the man, struggling to breathe as he spoke.
His fiancee, Dania Adas, also 19 and her sister Iman, 16, were both killed when Israeli jets hit the building next door where an alleged senior Islamic Jihad leader Khalil Al-Bahtini lived with his wife and daughter, all of whom were also killed.
Dania was already dead when rescue workers pulled her from the rubble, while Iman, 16 died later in hospital, their mother Asmahan Adas said. They were among 10 civilians killed in the strikes on Tuesday, including five women and four children.
The mother said she called out her daughters' names but she heard no answer.
"The place was filled with dust, but I didn't care and I entered the room. I wanted to rescue my daughters when I saw the whole room had collapsed on top of them," she told Reuters.
"The occupation took the dearest to me away, it took my children," she added.
Israeli officials said Al-Bahtini was one of three senior leaders from Islamic Jihad targeted in the strikes, accusing him of being the commander responsible for a barrage of rocket attacks on Israel last week.
They confirmed that women and children were killed in the air strikes but said Israel tries to limit civilian casualties.
But Palestinian officials in Gaza said Israel targeted residential buildings in the coastal enclave, where 2.3 million people live squeezed into an area of just 365 square kilometers, and accused Israeli officials of disregarding civilian lives by striking residential spaces that shelter women and children.
According to the health ministry, 21 people have died in Gaza since on Tuesday.
Palestinians have lived through several wars with Israel since 2008. Gaza health officials said a 16-year-old Israeli-led blockade has undermined the development of health institutions and crippled the economy, where more than half the population lives in poverty.
Israel withdrew its soldiers and settlers in 2005, it still limits Gaza's access to the sea and controls its airspace. It also keeps restrictions at two crossings of goods and people it controls with the enclave. Egypt also maintains some restrictions along its frontier with Gaza.
© Copyright Thomson Reuters 2023. All rights reserved.