Zelenskiy In Berlin: We Can Make Russia's Defeat 'Irreversible'
Ukrainian President Volodymyr Zelenskiy said on Sunday Kyiv and its allies could make a Russian defeat "irreversible" as early as this year as he secured a bumper new military package on a trip to Germany.
The visit formed part of a whirlwind weekend tour of several key European allies to drum up military and financial support ahead of an expected major Ukrainian counter-offensive against Russian forces.
It was the Ukrainian leader's first visit to Germany since Russia's invasion in February 2022. He also met Italian officials and Pope Francis in Rome on Saturday and late on Sunday he met French President Emmanuel Macron at the Elysee palace before the two went inside for a dinner meeting.
"Now is the time for us to determine the end of the war already this year, we can make the aggressor's defeat irreversible already this year," Zelenskiy said during a joint news conference in Berlin with German Chancellor Olaf Scholz.
Scholz underscored Germany's pledge to continue to support Ukraine for as long as necessary, brushing aside a question about earlier tensions in bilateral relations and side-stepping another question about Kyiv's hopes to join NATO.
Germany, which is Europe's largest economy, faced criticism at the start of the war for what some called a hesitant response, but it has become one of Ukraine's biggest providers of financial and military assistance.
The German government announced a 2.7 billion euro ($3 billion) package of military aid to Ukraine on Saturday, its biggest such package since Russia's invasion.
Zelenskiy said Kyiv was prepared to discuss external peace initiatives but said those proposals should be based on Ukraine's position and its peace plan.
"The war is happening on the territory of our country and so any peace plan will be based on Ukraine's proposals," he said, wearing his trademark khaki combat trousers and a black sweater.
Kyiv has ruled out the idea of any territorial concessions to Russia and has said it wants every inch of its land back. Russia annexed the Crimean peninsula in 2014 and since last year has claimed to have annexed four other Ukrainian regions, which Moscow now calls Russian land.
"Ukraine is ready for peace. But it demands, rightly and with our support, that this cannot mean to freeze the war and have a form of dictated peace by Russia," said Scholz.
Zelenskiy's visit came as Russia's Defence Ministry said on Sunday that two of its military commanders were killed in eastern Ukraine, as Kyiv's forces renewed efforts to break through Russian defences in the city of Bakhmut that has been the focus of months of bloody fighting.
PAST TENSIONS
Zelenskiy left open the prospect of a "risk that if the (counter)offensive is not very successful that there will be less support, but I don't think this is the general view".
"There are some countries that are thinking about it, but I don't think they've been very strong in their support for Ukraine throughout this period," he added, without specifying which countries could waver in their backing for Ukraine.
Zelenskiy visited Germany for the Munich Security Council in February last year, just before the war broke out. Germany was constrained in its support for Ukraine at that time both by its energy dependence on Russia and the pacifism that emerged from its bloody 20th century history.
Increasing its support required a major policy upheaval and a shift in mindset that Scholz dubbed a "Zeitenwende", or turn of era, in a landmark speech just days after the war broke out.
During his trip to Germany Zelenskiy also travelled with Scholz to the western city of Aachen to receive the prestigious Charlemagne Prize in honour of services to Europe at a ceremony attended by European Commission President Ursula von der Leyen and Polish Prime Minister Mateusz Morawiecki.
In a speech at the ceremony, Scholz gave Germany's "full support" to Ukraine's journey towards membership of the European Union.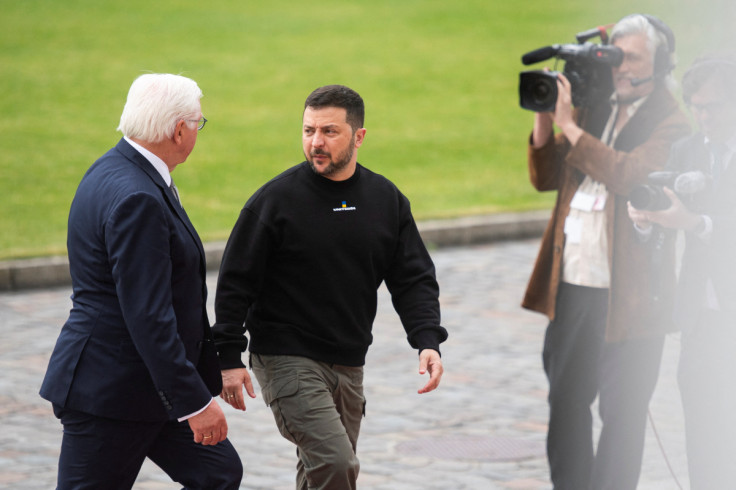 © Copyright Thomson Reuters 2023. All rights reserved.