Zelensky Assails Russian 'Beasts' Over Beheading Video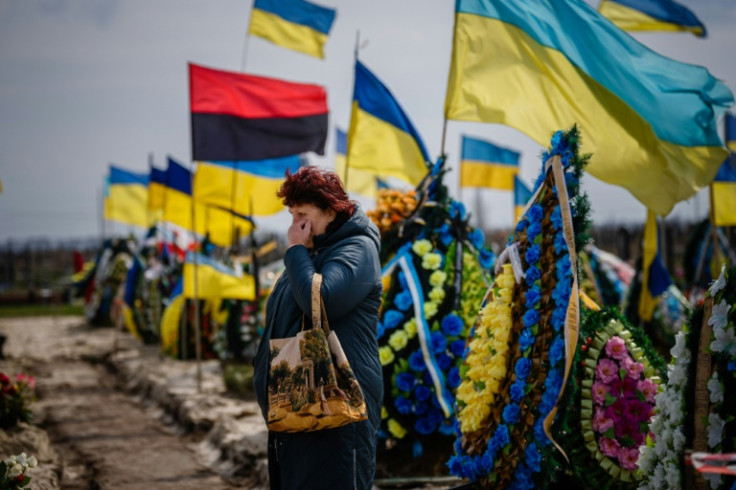 Ukraine's President Volodymyr Zelensky on Wednesday denounced Russian "beasts" after a video appeared to show the beheading of a Ukrainian prisoner, prompting international outrage.
The emergence of the disturbing footage, which AFP was unable to independently verify, sparked fury in Ukraine, with Kyiv saying Russia is "worse than ISIS" -- an acronym for the Islamic State jihadist group.
The European Union pledged to hold war criminals to account, while a UN mission in Ukraine said it was "appalled".
The UN Human Rights Monitoring Mission in Ukraine also pointed to another video spreading online, saying it "shows mutilated bodies of apparent Ukrainian POWs".
It was not clear when or where the video was filmed. Ukrainian authorities said they were trying to identify the beheading victim.
Moscow and Kyiv have repeatedly accused each other of killing prisoners of war since Russian President Vladimir Putin sent troops to invade Ukraine more than a year ago.
A number of videos alleging to show POW killings have made the rounds on the internet over the past year.
Following the emergence of a new video, Zelensky said in an address posted to social media that "the world must see" what he called an "execution" of a Ukrainian captive.
"There is something that no one in the world can ignore: how easily these beasts kill," the grim-faced Ukrainian leader said.
"We won't forget anything, nor will we forgive murderers."
The video, which lasts one minute 40 seconds, shows a masked man in camouflage decapitating another man in uniform.
After the screams stop, other voices are heard encouraging the attacker in Russian.
After the man is decapitated, a voice is heard saying that the head should be sent "to the commander".
The victim's vest bearing the Ukrainian trident and a skull can also be seen in the footage.
Zelensky urged world leaders to act and help Ukraine defeat Russia as Kyiv forces prepare a counter-offensive after a months-long stalemate on the battlefield.
"We need to act now!" the Ukrainian president said.
He echoed that message in virtual remarks Wednesday to an International Monetary Fund (IMF) roundtable in Washington, where the global lender is holding its spring meetings.
"By rebuilding what has been ruined, we defeat the goal of terror, we return the normal life," he said in English, reiterating a call for Russian assets to be put towards Ukraine's reconstruction.
The roundtable was held after the World Bank earlier in the day announced a $200 million grant to aid Ukraine in rebuilding its energy infrastructure, which has been badly damaged by Russian attacks.
Ukraine's SBU security service said Wednesday it had opened a probe into the video, while the UN Human Rights Monitoring Mission in Ukraine said it was "appalled."
"One of the videos shows a brutal execution of a man who appears to be a Ukrainian prisoner of war, while the other one shows mutilated bodies of apparent Ukrainian POWs."
The EU said that, if confirmed, the footage was "yet another brutal reminder about the inhumane nature of the Russian aggression".
"The EU reiterates its firm commitment to holding to account all perpetrators and accomplices of war crimes committed in connection with Russia's war," EU spokeswoman Nabila Massrali said. Brussels did not have information on the veracity of the video, she added.
European Council president Charles Michel tweeted that he was "mortified by atrocious video" while France condemned "a barbaric act" and "an unbearable attack on human dignity".
Kremlin spokesman Dmitry Peskov told reporters: "First of all, the authenticity of this horrible footage needs to be verified. We live in a world of fakes."
Top Ukrainian officials renewed calls to remove Russia from the UN Security Council where it is a permanent member.
"It's absurd that Russia, which is worse than ISIS, is presiding over the UNSC," wrote Foreign Minister Dmytro Kuleba.
Russia holds the rotating Security Council presidency for the month of April.
Mykhailo Podolyak, a political adviser to Zelensky, warned against "any attempts to find a compromise with the terrorists".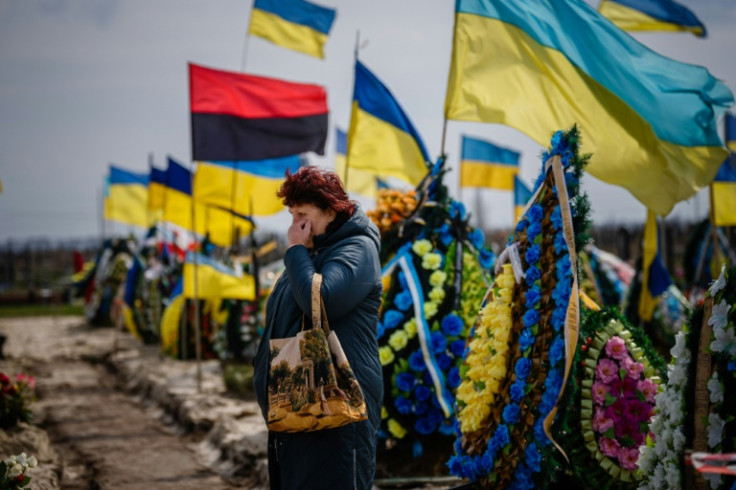 © Copyright AFP 2023. All rights reserved.