Zelensky Says This Year Will Be 'Decisive For Victory'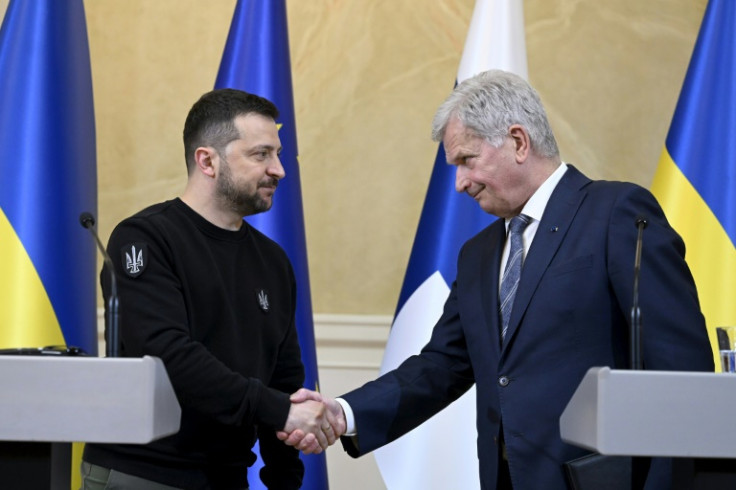 Ukrainian President Volodymyr Zelensky on Wednesday said this year will be "decisive" as he reaffirmed his call for heavier weapons ahead of Ukraine's counter-offensive against Russia, during a surprise visit to Finland.
"I believe that this year will be decisive for us, for Europe, for Ukraine, decisive for victory," he told reporters during a joint press conference with his Finnish counterpart Sauli Niinisto.
Zelensky thanked Niinisto, whose country became NATO's newest member in April, for its military support so far and said the two have agreed to speed up further deliveries.
While Ukraine has specifically asked for advanced fighter jets, Niinisto said that due to Finland's geographical location -- with its long border to Russia -- it "couldn't give up" its existing jets before the delivery of new ones, scheduled for 2025 onward.
But Zelensky said he was "sure we'll have aircrafts" and pointed out that so far Ukraine has first had to prove itself on the battlefield before getting more advanced military support.
"We will conduct offensive actions, and after that we will receive aircrafts," he said.
Zelensky also congratulated Finland on its NATO accession and said that "Ukraine needs the same security guarantees."
"The most powerful security guarantee for Ukraine is NATO membership," he said.
Citing NATO's open door-policy, Niinisto said that it is "very important" that "all the NATO countries can have a common voice on this" ahead of NATO's Vilnius summit in July.
Later Wednesday, Zelensky was to participate in a summit gathering the leaders of the five Nordic nations.
The Ukrainian leader was due to hold bilateral talks with Swedish Prime Minister Ulf Kristersson, Norway's Jonas Gahr Store, Denmark's Mette Frederiksen and Iceland's Katrin Jakobsdottir.
"In order to be in NATO and support alliances to gain support, fundamental diplomatic work must be done. Ukraine is doing it today," Daria Zarivna, a presidential communications adviser wrote on Telegram.
All of the Nordic countries have pledged both financial and military support to Ukraine following Russia's invasion in February 2022.
Denmark, Finland, Norway and Sweden have also joined in the international effort to supply heavier weapons to Ukraine by donating some of their own Leopard 2 tanks or offering financial support to acquire them.
On Tuesday, Denmark said it was sending 1.7 billion kroner ($250 million) worth of military aid, its biggest donation to date, "to support the forthcoming Ukrainian offensive."
© Copyright AFP 2023. All rights reserved.