Bolsonaro Denies Wrongdoing In Saudi Jewel Case In Police Testimony: Source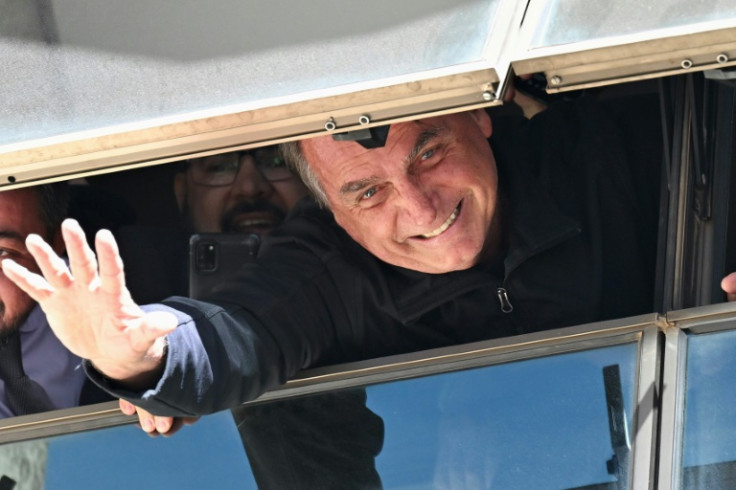 Brazil's ex-president Jair Bolsonaro on Wednesday denied any misconduct while being questioned by police over allegations he tried to illegally import millions of dollars' worth of jewelry gifted by Saudi Arabia, a source told AFP.
The allegations over the illegal importation of pricey gifts received by Bolsonaro and his wife from the Gulf kingdom emerged in March, triggering multiple investigations and sparking a legal and political headache for the ex-president.
The 68-year-old was questioned by federal police in Brasilia a week after returning to Brazil from three months of self-imposed exile in the United States following his election loss in October.
The scandal erupted after newspaper Estado de Sao Paulo reported that customs officers intercepted an aide to Bolsonaro's then-mines and energy minister trying to enter Brazil with a backpack containing diamond jewelry from Swiss luxury firm Chopard following an official trip to Saudi Arabia in October 2021.
It later emerged Bolsonaro had kept a second set of jewels, also from Chopard, that entered Brazil undetected after the same trip.
A source close to the ex-leader, who spoke on condition of anonymity as they were not authorized to speak on the matter, said Bolsonaro had denied he had committed any crime to the federal police and said he had only become aware of the seized jewelry in December last year.
The source said Bolsonaro explained subsequent efforts to release the seized jewels as an attempt to avoid a diplomatic incident, in view of the possible eventual auctioning of the jewelry.
Under Brazilian law, public officials can only keep gifts that are personal and of minimal monetary value, according to the president of the Federal Court of Accounts, which ordered Bolsonaro to forfeit the jewelry.
Bolsonaro spent around three hours at police headquarters and left without making a statement to the press. The police also did not make any comment.
Bolsonaro's adviser and former presidential communications chief Fabio Wajngarten said the "testimony went absolutely smoothly" in a tweet. "It was an excellent opportunity to clarify the facts."
Travelers entering Brazil with goods worth more than $1,000 are required to declare them and pay hefty import taxes.
The jewels could also have entered Brazil tax-free as official gifts to the nation, but then they would have belonged to the presidential palace collection.
© Copyright AFP 2023. All rights reserved.