Japan's 'Cringeworthy' Cartoon Cars Make Image U-turn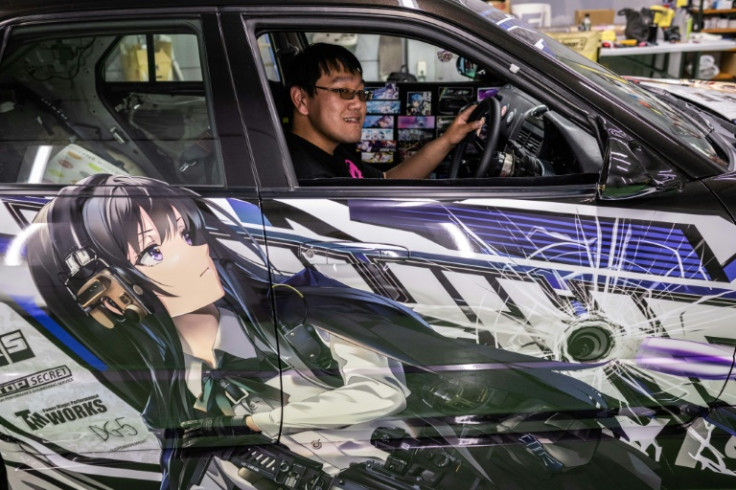 Yosuke Takahata doesn't care what people think of his "itasha" car, which has his favourite anime character -- a sexy, red-eyed horse-woman -- emblazoned across both sides.
For him and other owners around Japan, plastering cartoon pictures all over their vehicles is just another way of paying homage to their two-dimensional true loves.
"Itasha" means "cringeworthy car", reflecting the misfit image the vehicles had when they first started appearing on roads around 20 years ago.
But perceptions have begun to change, with anime and other hobby subcultures gaining a new mainstream acceptance in Japan.
It's all the same for Takahata, a 31-year-old car shop employee, for whom looking cool is not the point.
"It's the character that I like, and that's all that matters," he told AFP, holding an umbrella to keep the rain off his defiantly unfashionable mullet.
Driving around with the buxom Daiwa Scarlet from the manga and anime series "Uma Musume Pretty Derby" on show means he can "always be with the character", he said.
After all, if he worried about others judging his fully customised Jaguar XJ sedan, he "wouldn't be able to drive anywhere".
Itasha owners can spend thousands of dollars pimping their rides with huge vinyl stickers, turning their cars, motorbikes or even caravans into a canvas.
Shota Sato, who works at another car shop, describes owning an itasha as "an extension of having a character's picture on your phone".
The 26-year-old and his friends have all decorated their cars with different cute characters from the anime "Lucky Star", and they often go for drives together.
Owners also get together for events such as Itasha Tengoku, an annual show held in Tokyo that features up to 1,000 vehicles.
The cars on display are a riot of colour and imagination, upstaging even the neon wigs and outlandish costumes of the visitors who come dressed in cosplay.
Many of the vehicles also have customised frames, wheels, engines and interiors that cost eye-watering sums even before adding the artwork.
The culture grew naturally among young people interested in cars and anime, said event organiser Kenichi Kawahara, who also publishes a magazine for itasha enthusiasts.
"More than 99 percent" of owners are men, who use itasha to "express their feelings for the things they like", he said.
"There are 1,000 itasha here today, and no two are the same."
Having an itasha can be hard on the wallet though, and a full car wrap can cost up to 1 million yen ($7,500).
Some owners save money by sending their designs to a printing company and applying the stickers themselves, but most take their cars to a specialist shop.
Naoya Imai runs a car-wrapping business in Tokyo that gets plenty of business from itasha owners.
He draws up a design in consultation with the owner and checks if they are happy with it, then prints it onto vinyl stickers that he applies to the car.
Lining up the lettering and other intricate details makes it a painstaking process that can take up to 10 days.
Imai said that simply slapping a character's picture on a car "doesn't look cool", and he uses his design sense to create something that exudes a particular ambience.
More owners nowadays are drawn to itasha because they "want to stand out", he said.
"In the past, itasha owners put stickers on their cars just because they liked it," he added.
"Now they want strangers to think their cars look cool."
Seeing the finished product can be an emotional moment for owners such as Ryosuke Nakano, who took his customised Nissan Skyline to Imai's shop for a full body wrap.
Nakano had dabbled in small window stickers before, but nothing approaching the scale of Imai's design, which splashes massive gun-toting "Lycoris Recoil" characters on the front and sides of the car.
"When I had window stickers, it would only be the people behind me who could see it, so I'm a bit scared of how people will react when they see this from the front," said the 29-year-old.
"But I don't care. This is what I like."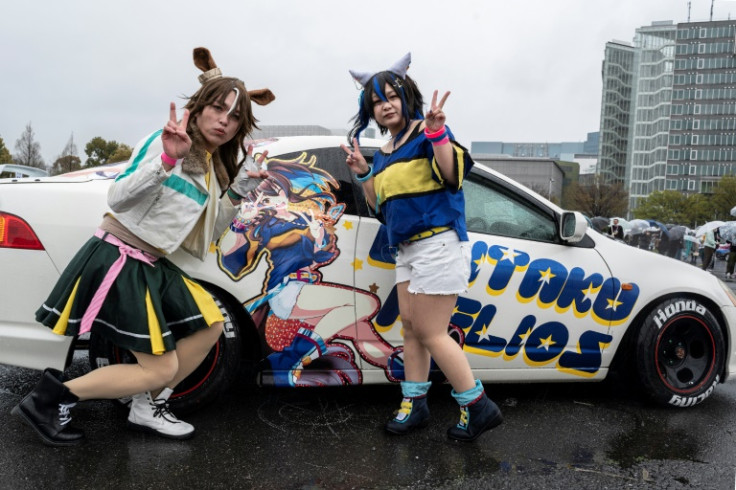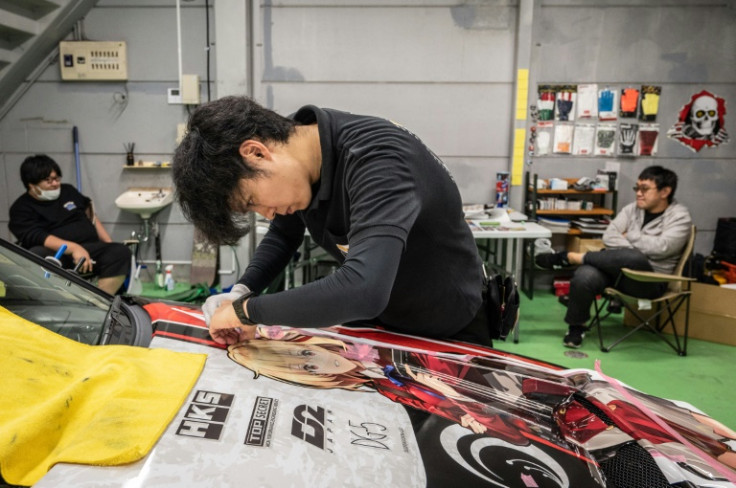 © Copyright AFP 2023. All rights reserved.