Second Evacuation Plane From Conflict-ridden Sudan Arrives In UAE
KEY POINTS
136 Emiratis and other nationals were rescued from Sudan on Sunday
The plane arrived one day after the first evacuation plane reached Abu Dhabi on Saturday
The evacuees will temporarily stay in Abu Dhabi before being flown back to their home countries
Another evacuation plane carrying 136 UAE citizens arrived in the UAE on Sunday. In a statement, the Ministry of Foreign Affairs and International Cooperation (MOFAIC) said the plane also carried diplomats and nationals from nine other countries who were trapped in the conflict-ridden Sudan.
"In order to enhance the values of human solidarity, the second evacuation plane arrived in the UAE from Sudan," the Ministry tweeted.
The plane arrived one day after the first evacuation plane rescued Emiratis and other nationals from the country on Saturday, reported Zawya. Following the successful operation, the Ministry said the evacuation was carried out as part of the UAE's humanitarian efforts and "commitment to strengthening global cooperation and solidarity."
The ministry also revealed the evacuees were rescued in order of priority, with the most vulnerable groups being at the top. "The UAE has placed vulnerable groups at the top of its priorities, including the sick, children, the elderly, and women—by hosting them in the country and providing all necessary services prior to their transfer to their countries," it said in a tweet.
The non-Emirati evacuees are currently being provided accommodation in Abu Dhabi, where they will briefly stay before being flown back to their home countries.
Meanwhile, MOFAIC also reaffirmed the country's commitment to helping other countries in times of need and said it would continue to work with its partners and the international community to serve the best interests of the Sudanese people. The ministry also stressed the importance of ramping up efforts to reach a ceasefire and promote resolving the ongoing conflict through peaceful dialogue.
Battles in Sudan erupted on April 15 as two sides of the Sudanese military fought for control over the country. Armed violence has then terrorized the country, leaving hundreds of soldiers and civilians dead. The parties agreed on a temporary ceasefire last week to give way to the evacuations of civilians, but the ceasefire later proved to have crumbled after evacuees reported surging fighting and air strikes in Khartoum.
A 70-year-old UAE citizen who was rescued from Sudan said the children in their family were traumatized and suffered nightmares because of the ongoing civil war. Despite that, she said she's lucky to have escaped death with the help of the UAE government.
"We are very lucky that we belong to UAE and its government does not discriminate between its citizens and residents or any human being when it comes to humanitarian situations," she told Khaleej Times. "The UAE is always the first to respond to humanitarian missions in any part of the world. It extends its hands to those who are distressed because of war or natural disasters."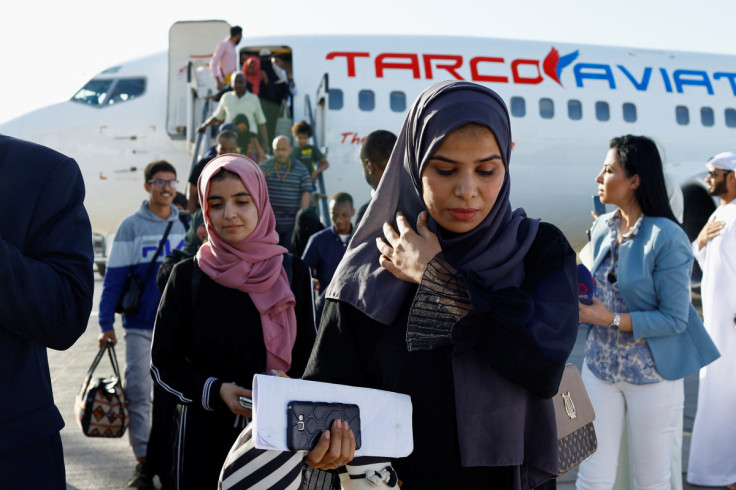 © Copyright 2023 IBTimes AE. All rights reserved.