UAE-Nigeria Visa Dispute: Tinubu Seeks Immediate Resolution To Disagreements On Emirates Airline Crisis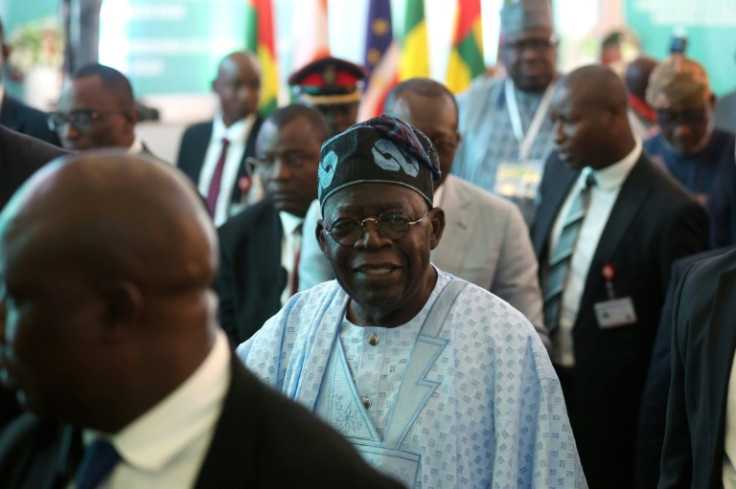 Nigeria's President Bola Ahmed Tinubu has asked for an immediate resolution to disagreements with the United Arab Emirates (UAE), regarding the Emirates Airline and visa issuance.
Last year, the UAE had stopped issuing visas to Nigerian nationals after Emirates Airline suspended flights, as the Middle Eastern country could not repatriate funds from Nigeria, Reuters reported.
Both countries share a long history of flight restrictions due to which they signed a Bilateral Air Service Agreement in 2017. However, things were still not smooth between the nations, leading to President Tinubu's intervention.
Tinubu's spokesman, Ajuri Ngelale, issued a statement via X (formerly Twitter) to share that the president wanted the issue between Nigeria and the UAE airline to be "immediately" resolved.
Ngelale disclosed in the statement that Tinubu met the UAE's ambassador to Nigeria, Salem Saeed Al-Shamsi, and discussed the ongoing airline issues between both countries.
"We are a family with the UAE, we only live in separate rooms, but we are in the same house. We should look at the issues as a family problem, and resolve it amicably. As you know in every family, there are peculiarities," the president said. "You can have an erring son, or daughter, but we must work together. We need to agree on core aviation and immigration issues."
The ambassador to the UAE, on the other hand, noted that since he arrived in Nigeria, he has been working on 24 agreements between the countries, adding these are small issues and will be resolved eventually.
"We are getting somewhere. These are small issues, all within a family, and they will be resolved. I am grateful to be here in Nigeria. I am also very grateful to meet His Excellency, President Tinubu, who is a great leader in Nigeria, and Africa." the UAE's ambassador said. "Please accept me as a Nigerian and consider me a member of your team."
There are many Nigerians working and living in the UAE as labor force, contributing to the economy.
Meanwhile, in March, Emirates Airline had said "substantial" revenue was trapped in the African country. According to the International Air Transport Association, Nigeria has withheld $743 million in revenue earned by international carriers, which are operating in the country, as it continues to face a shortage in foreign currency.
Nigeria isn't the only country that has faced a visa ban from the UAE. Previously, countries like Uganda, Ghana, Sierra Leone, Sudan, Cameroon, Liberia, Burundi, Republic of Guinea, Gambia, Togo, Democratic Republic of Congo, Senegal, Benin, Ivory Coast, Congo, Rwanda, Burkina Faso, Guinea Bissau, Comoros, and the Dominican Republic has also faced visa bans.
Considering the trade relations between Nigeria and the UAE, the African country exported $276 million and imported $1.36 billion worth of products, as of 2021's OEC report.
© Copyright 2023 IBTimes AE. All rights reserved.