Abu Dhabi Crown Prince Kicks Off 4-Day Official Visit To Malaysia
KEY POINTS
He will pay a courtesy call to Prime Minister Datuk Seri Anwar Ibrahim
They will about various issues of mutual interest
These will reportedly include bilateral relations between the UAE and Malaysia
Sheikh Khaled bin Mohamed bin Zayed Al Nahyan arrived in Malaysia on Sunday for a four-day special visit to the country.
This marks his first trip to the country since his appointment as the Crown Prince of Abu Dhabi and Chairman of the Abu Dhabi Executive Council on March 29.
Pahang Regent Tengku Hassanal Ibrahim Alam Shah Al-Sultan Abdullah Ri'ayatuddin Al-Mustafa Billah Shah welcomed Sheikh Khaled at Bunga Raya Complex in Kuala Lumpur at 8:42 p.m. Accompanying him were Foreign Minister Datuk Seri Zambry Abdul Kadir and Deputy Prime Minister Datuk Seri Fadillah Yusof.
Sheikh Khaled is being accompanied by a delegation from the UAE, which includes Minister of Energy and Infrastructure Suhail Al Mazrouei, Minister of State for Foreign Trade Dr. Thani Al Zeyoudi, Department of Municipalities and Transport Chairman Mohammed Ali Al Shorafa and Abu Dhabi Department of Economic Development Chairman Ahmed Jasem Al Zaabi.
During the visit, the Abu Dhabi Crown Prince will pay a courtesy call to Prime Minister Datuk Seri Anwar Ibrahim and discuss with him various issues of mutual interest, including bilateral relations between the UAE and Malaysia, which was officially upgraded to a Strategic Partnership on Sept. 27, 2022. They will also exchange views on issues of regional and international concern.
The Malaysian Prime Minister also revealed earlier on Monday that the visit will involve a discussion of the 1Malaysia Development Berhad (iMDB) issue. "The settlement of 1MDB with the International Petroleum Investment Company (IPIC) involving an additional amount of US$1.8 billion to the country, and everyone knows the Crown Prince is currently in the country to continue discussing, including the issue of investment," he told The Straits Times.
The statement was in response to a question raised by Malaysian opposition leader Hamzah Zainudin on the new and drastic policies implemented by the unity government to boost the national economy amid the global economic crisis.
The UAE and Malaysia share longstanding trade relations, with the UAE being Malaysia's second-largest trading partner and export destination today. In 2022, Malaysia's total trade with the country skyrocketed by 73.5% from 2021.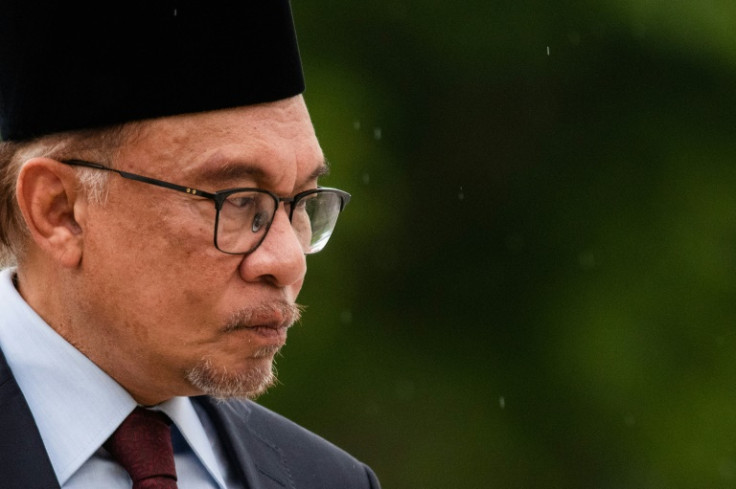 © Copyright 2023 IBTimes AE. All rights reserved.