Indian Prime Minister Narendra Modi To Visit UAE On Saturday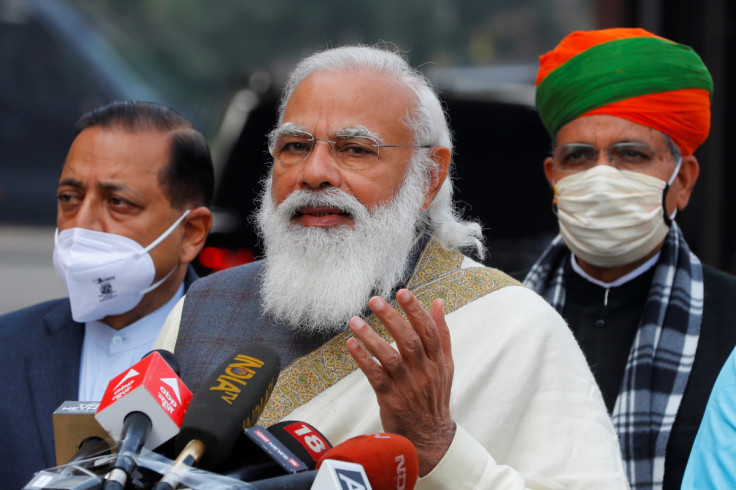 Indian Prime Minister Narendra Modi is all set to visit the United Arab Emirates (UAE) to hold a meeting with President Sheikh Mohamed bin Zayed Al Nahyan.
On Wednesday, India's Ministry of external affairs stated that the Prime Minister of India will be visiting Abu Dhabi and meeting the President of UAE, Sheikh Mohamed bin Zayed Al Nahyan, to strengthen the partnership between both countries.
Prime Minister Modi will arrive in UAE on Saturday after completing his two-day France visit on Thursday and Friday.
This visit will be an opportunity to identify various ways of taking the India-UAE Comprehensive Strategic Partnership forward in several domains including energy, education, healthcare, food security, fintech, defense, and culture.
"It will also be an opportunity to discuss cooperation on global issues, particularly in the context of UAE's Presidency of COP-28 of the UNFCCC and India's G-20 Presidency in which UAE is a Special Invitee," it stated.
The United Nations Climate Change Conference or Conference of the Parties of the UNFCCC is referred to as COP28, which discusses issues like climate change on a global level. It includes participants from UNFCCC member countries like the United States, Canada, Australia, the United Kingdom, Germany, Japan, Italy, New Zealand, Ukraine, and more.
India is UAE's second-largest trading partner as it records 9% of total foreign trade and 14% of non-oil exports. Whereas, the UAE is India's third biggest trade partner.
The trade between both countries marked $72.8 billion in 2021, as per IBEF. This year, the trade between both nations is projected to surpass $88 billion.
PM Modi previously visited UAE in June last year to convey his personal condolences after the former UAE President Sheikh Khalifa bin Zayed Al Nahyan passed away at the age of 73.
Ahead of last year's visit, both countries launched a business council to increase trade and investment between the UAE and India.
On the first anniversary of the India-UAE Comprehensive Economic Partnership Agreement (CEPA), both nations launched UAE India Business Council - UAE Chapter (UIBC-UC) in February 2022.
This initiative aims to increase trade between the countries by up to $100 billion and attract $75 billion in investment from UAE to India. UAE-based Lulu Group is also investing in India on various projects including a shopping mall in Ahmedabad, a city in India.
"We have started the construction of a shopping mall in Ahmedabad. And also another one in Chennai we are coming up. A food processing plant is coming up in Noida and another one in Telangana. It is Rs 10,000 crore investments in the next three years," Lulu Chairman Yusuff Ali MA said last month, IndianExpress reported.
© Copyright 2023 IBTimes AE. All rights reserved.