UAE's Astronaut Sultan Al Neyadi To Return To Earth On Sept. 3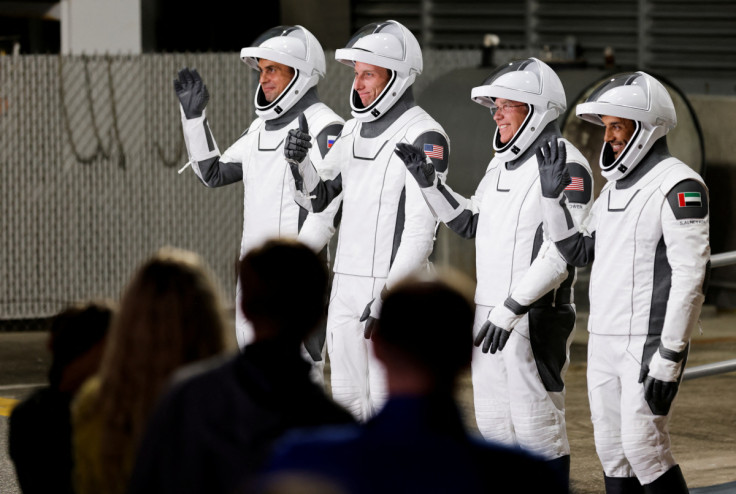 The Mohammed Bin Rashid Space Centre (MBRSC) announced that astronaut Sultan Al Neyadi is all set to return to Earth on Sept. 3 (Sunday) after completing the longest Arab space mission in history.
Astronaut Al Neyadi is the first Arab to perform a spacewalk and spend six months in the space. Al Neyadi along with NASA astronauts Stephen Bowen and Warren Hoburg, and Roscosmos cosmonaut Andrey Fedyaev is scheduled to return from the International Space Station (ISS).
The official X handle of Dubai Media Office shared a post on Tuesday, revealing that the Dragon spacecraft will undock from the ISS on Sept. 2.
"On 2 September, the Dragon spacecraft will undock from the ISS, carrying aboard @Astro_Alneyadi and his Crew-6 crewmates. The arrival is scheduled for 3 September," Dubai Media Office posted, which was reposted by MBRSC.
The longest Arab space mission was launched on March 2 and during this mission, Al Neyadi did over 200 experiments in collaboration with international space agencies and several UAE and global universities.
These experiments contributed to various fields including plant genetics, human life sciences, exploration technology, fluid dynamics, material science, protein crystallization growth, and advanced exploration technologies, as per ZAWYA.
Moreover, the scientific community, researchers, and students in the UAE and across the world will benefit from the experiments that took place during the mission.
The Arab astronaut also managed to engage with 19 educational and community outreach events, which was a series called "A Call from Space." During these events, more than 10,000 people interacted with the Emirati astronaut via radio sessions as well as video calls.
The space mission was managed by MBRSC, which was established in 2006 and located in Al Khawaneej, Dubai. Yousuf Hamad Alshaibani serves as the director general of MBRSC.
The UAE space program includes various space satellite projects, the UAE astronaut program, the Emirates Lunar Mission, and the Emirates Mars Mission. The UAE Astronaut Programme was funded by the ICT Fund of the Telecommunications and Digital Government Regulatory Authority (TDRA).
Al Neyadi isn't the first Emirati astronaut in space as previously Hazza Al Mansouri became the first person to enter space from the UAE.
He became an astronaut after Prime Minister of the United Arab Emirates, Mohammed bin Rashid Al Maktoum urged young Emiratis to register in the UAE Astronaut Programme via MBRSC in 2017. Al Mansouri also bagged the title of the UAE's youngest F-16 fighter pilot.
© Copyright 2023 IBTimes AE. All rights reserved.