Brazil, UAE Seal Climate, Biofuels Deals As Leaders Meet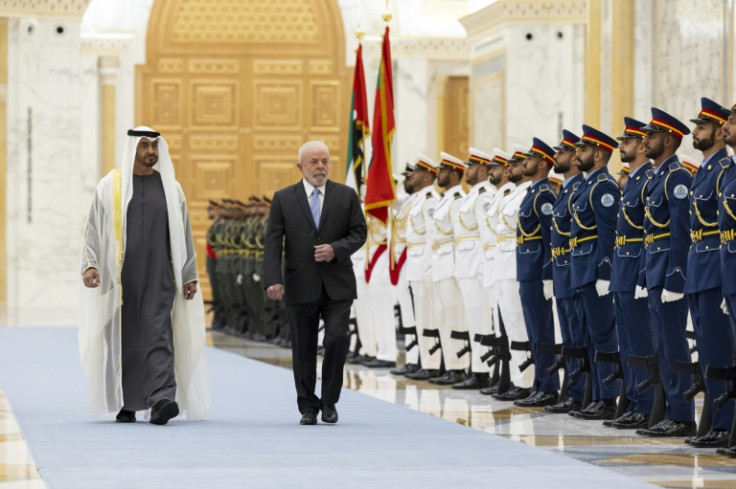 Brazil and the United Arab Emirates announced a series of deals on combating climate change and advancing biofuels Saturday as President Luiz Inacio Lula da Silva paid an official visit to the oil-rich country.
"It was a highly fruitful visit," Lula said in brief comments to Brazil's TV Globo after meeting UAE president Sheikh Mohamed bin Zayed Al Nahyan in Abu Dhabi on his way home from a trip to China.
The countries said in a joint statement the leaders had discussed a range of subjects including trade, technology, defense, aviation and food security.
They also announced a series of deals, including one for the UAE-controlled Mataripe refinery in northeastern Brazil to invest up to $2.5 billion in a biodiesel project in the region, and another on cooperating against climate change.
The UAE is due to host the COP28 UN climate talks later this year, and Brazil is a candidate to host the 2025 edition.
The countries said they had agreed to work together to "encourage ambitious climate action" from the rest of the world.
Sheikh Mohamed greeted Lula at the presidential palace, where a 21-gun salute rang out and formation jets trailed Brazil's national colours.
Lula, who returned to power in January after two terms as president between 2003 and 2010, was played the Brazilian national anthem and inspected an honour guard.
His counterpart also invited him to attend an "iftar" dinner -- the daily fast-breaking meal during the Muslim holy month of Ramadan.
He is due to give a press conference early on Sunday before leaving, officials said.
The strategically located Gulf monarchy is Brazil's second-largest trading partner in the Middle East, according to the official WAM news agency.
Bilateral trade excluding oil products totalled more than $4 million last year, representing a 32-percent rise from 2021, WAM said.
In Beijing, where Lula sought to consolidate economic ties with Brazil's main trading partner, he said his country was "back on the international stage" and ready to mediate an end to Russia's war in Ukraine.
Lula also accused the United States of "encouraging" the war and said it should "start talking about peace".
Both China and Brazil have refused to join Western nations in imposing sanctions on Moscow for its invasion, and there are concerns in the West that both potential mediators are overly cosy with Russian President Vladimir Putin.
The UAE has maintained a neutral stance in the conflict.
Its financial hub Dubai has attracted Russian professionals and businesspeople fleeing the impact of Western sanctions since the invasion in February 2022.
© Copyright AFP 2023. All rights reserved.